Mexico
Layun flashes versatility again, Lozano knocks off rust & more: Five things from Mexico's win vs. Scotland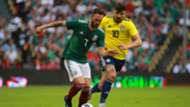 Mexico bid farewell to its fans with a 1-0 victory over Scotland in the Estadio Azteca on Saturday and were sent packing with boos and cries for the coach's job.
"That's how the fans are," winger Hirving Lozano said after the match. "We have to be concentrated on what we're doing. We won, which is the most important thing. The group looked a lot better in controlling the game as well."
Lozano is right and he also knows that should El Tri make a deep run at the tournament, those same fans who were booing the win Saturday will be thronging the streets to welcome the team home.
Could that actually happen? Where is Mexico at as it sets off for its final friendly ahead of the big show?
As the players spend time with their families ahead of flights to Europe on Sunday night, let's take a look back at five things from the final match in the Americas before the World Cup begins:
---
Layundowski does it again
---

It probably should stop being a surprise at this point to see Miguel Layun advancing up the field and doing positive things. Sliding into the midfield for the national team at Estadio Azteca is a great example, though, of how far Layun has come. Now hoping to stay in La Liga with Sevilla, where he's on loan from Porto, not long ago Layun was being jeered by America fans at the very same facility.
OK, so maybe not that much has changed, but that's on the fans and not Layun. After being very involved as one of two outside midfielders in a 4-3-3, Layun swapped with Edson Alvarez and turned in a strong second half at right back.
"[One] strategical and tactical thing that we wanted to see is Miguel starting as an interior. It was very fruitful," Osorio said. "He had shots and set up teammates and we had Edson Alvarez coming forward more than playing at left back. 
"In the second, understanding that the entrances in our attacking third were from the wings, we tried to get stronger in that aspect and made a change, a permutation with the same 11. I think both showed what we expected from them. In general terms, it was a very good exercise. We're going to keep working and we're very optimistic that we're going to have a great World Cup."
Basically, decide what needs to be better, and send Layun to do it. Osorio gets criticized for experiments, and he has toyed around with Layun's positioning more than that of any other player. The thing is, though, Layun is good pretty much everywhere he's played. The central midfield thing didn't really work out, but Layun showed Saturday he can play in the midfield, and we've seen him succeed on the wing as well.
Now it's on Osorio to figure out, essentially, where Layun's WAR is highest. The baseball stat, Wins Above Replacement, measures how much more a team would lose were a player out and an average player came into the lineup to replace him. Is his value at left back that much higher than Jesus Gallardo's that he needs to play there? Will injuries force Carlos Salcedo to the middle and Layun to right back? Or will the team be without Andres Guardado because of injury and lean on Layun in the middle like it did in the first half? Luckily, he's a versatile enough player that no matter the answer, El Tri shouldn't have to worry about what Layun is doing on the field. 
---
Salcedo flexibility paves way for Alanis cut
---

Speaking of versatile defenders, Carlos Salcedo put in 45 minutes of good work as the left center back and once again showed he's comfortable in the position. It shouldn't be much of a surprise. Salcedo has played at right center back and right back with El Tri and has played all across the back line with Eintracht Frankfurt, including at left center back.
Osorio took a look at Salcedo as the left center back against Wales and did so again Saturday, and he liked what he saw enough to cut Oswaldo Alanis from the roster. The left-footed Alanis profiled as a potential back-up for Hector Moreno should the Real Sociedad defender fail to recover from his lingering calf issue. 
"Basically we took the decision under four factors," Osorio said of leaving Alanis, Jesus Molina and Jurgen Damm home. "The first, direct competition with another player in this same position who we consider can play in any scenario versus any team, apart from the opponent and give us what we need. Second, the competition with another option. Third, the injuries and fourth the multi-functionality of some players."
With Salcedo able to play as the left center back as well as right center back and right back, Alanis becomes surplus - even for a team like Mexico that is growing thin on defenders. Edson Alvarez profiles as a replacement for Salcedo if he suffers another injury or Diego Reyes, and that versatility makes him more valuable than Alanis who struggled when asked to play left back and never was good enough at his best position to lock down a role.
---
Finishing again missing
---

For the second match in a row, Mexico dominated, created chances and came away with not all that much to show for it. Mexico had 29 shots and put 11 of them on target. Osorio said after the match that the coaching staff had emphasized shooting from mid-range when there's an opportunity, hoping for players to be more aggressive than they were against Wales.
"The credit goes to the players because not only the forwards but also the midfielders and Gallardo at left had good shots," the manager said. "We had a lot of shots and were efficient. Now we need to turn [them] into goals. We're still working on this."
He said the team would correct it, but lack of finishing is something that has frustrated Mexico managers since the days of Osorio's predecessors. With players who generally are deadly finishers like Chicharito and Raul Jimenez, you'd expect more.
The boos probably don't rain down at the Azteca after Saturday's victory if Miguel Layun's 27th-minute shot hits the post and tucks into the goal rather than staying out or if Hirving Lozano and Carlos Vela work better on the counter-attack they had in the 53rd minute.
Counter-attack communication does take time and Osorio promised, "We're going to get better" at finishing thanks to work in training the next several days. El Tri have players who can score, or at least we think they do, but it's a trend worth keeping an eye on. Scoring in training can be easy. Doing it in a World Cup match? Not so much. 
---
Chucky knocks off some rust
---

Osorio said he and his coaching staff had "resisted the temptation" to play rising star Hirving Lozano against Wales. They gave in to the temptation Saturday and will be glad they did. There were still moments where Chucky skinned defenders in the box, and he twice should have scored but ended up having a miscommunication with a teammate deny him the opportunity at an open shot at goal.
With PSV's season ending on May 5, it had been nearly a month since the 22-year-old played a competitive match. Getting him back in a playing rhythm is a good thing for Mexico, with Lozano likely to feature against Denmark as well in the team's final friendly before the World Cup.
"The team looked really good. We had a lot of chances to score," Lozano said after the game. "Unfortunately, we couldn't score, but that's how we want to play. The players did their jobs and the team looked good."
After the season he had in the Netherlands, scouts will be tracking his every move in Russia. Saturday night wasn't his best match, but it should help him get back in the groove and give El Tri the dangerous winger they've enjoyed for the last several months.
---
Dead balls not deadly
---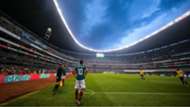 Mexico's last set-piece goal was a Marco Fabian stunner to open the scoring in a 3-0 win over Iceland in March. That was only three matches ago, but El Tri hasn't looked like the same team it has been in the Osorio era from dead balls in the last several matches.
As recently as the summer of 2017, one out of every three Mexico goals came from a set piece with MedioTiempo calling dead-ball situations "El Tri's best friend."
Between Fabian's goal against Iceland and Hugo Ayala's header against Bosnia and Herzegovina in early February's non-FiFA date match, it may be too early to start panicking about the lack of goals scored through that method. Still, Mexico has outsmarted and outworked teams before on corner kicks or in dangerous areas and needs to do a better job not only with the opportunities it has but earning more chances to use a designed play.
The goals aren't coming from open play right now despite the opportunities. There's no shame in getting a header from a corner kick or a penalty to get things moving in the right direction again.