MLS
LAFC's growing pains continue as Atlanta United pours it on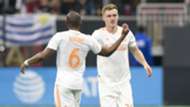 For the second straight week, Los Angeles FC went into the final third of its match in pretty good shape, playing well, with every possibility of earning a positive result. Unfortunately for Bob Bradley and his team, the final 30 minutes were a nightmare yet again.
A week after seeing a 3-0 lead turn into a 4-3 loss to the LA Galaxy, LAFC watched a manageable 1-0 deficit against Atlanta United transform into a 5-0 blowout that suddenly has the club looking every bit like the expansion team it is.
The final score wasn't really indicative of how competitive this showdown of high-flying teams really was for much of the match. Big home wins are the norm for Atlanta United, but LAFC made the home team work hard for the modest 1-0 lead it held in the 67th minute of Saturday's match.
That changed when Julian Gressel raced in behind rookie defender Joao Moutinho and delivered a perfect cross to the back-post, where Josef Martinez was inexplicably left unmarked for the insurance goal Atlanta wound up not needing.
The three goals that followed included mistakes that Bradley will surely work on going forward, but the overarching message from LAFC's latest loss is similar to the message from a week ago. Finishing matches with focused and disciplined soccer is important, and anything less than that can and will be punished.
Atlanta United deserves the credit for the win, even if some good luck in a pair of VAR decisions helped make the road to a victory easier. If Chris McCann's first-minute red card hadn't been overturned we very well could have seen a far different match.
What we saw instead was an LAFC attack that showed glimpses, but lacked the fluidity it had in the club's first two matches and the first half of last week's loss. Carlos Vela had moments of magic, but Diego Rossi, Marco Urena and Latif Blessing couldn't find a good rhythm with the Mexican star, making it tough for LAFC to really test an Atlanta defense that started the inexperienced Miles Robinson and vulnerable Chris McCann in central defense.
LAFC had more success keeping the ball than most of Atlanta United's opponents do, but that edge in possession didn't translate into dangerous chances. LAFC produced 16 shots on the day, but only one of them was on goal.
Atlanta United's attack, on the other hand, did show some good rhythm when it had the ball and created better looks at goal despite having less possession. Gressel was the star of the match when it was still close, scoring the opening goal in the first half before delivering the perfect cross for the Martinez's insurance goal.
The reigning MLS rookie of the year continues to thrive playing as a on the right wing in a 3-5-2 formation that has produced four straight wins since Tata Martino made the tactical switch from a 4-4-2.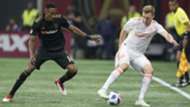 Atlanta United's winning streak has helped paper over the continued absence of a dynamic ball-winner in central midfield, as well as Darlington Nagbe's continued inconsistency playing deeper in the midfield. That might explain Atlanta United being linked with Stephane Mbia, who was recently spotted in Atlanta. The former Sevilla midfielder most recently played in Spain, and his profile is very much what Atlanta United needs, along with some center back depth.
It might seem odd to be listing the needs of a team that is riding a four-match winning streak and is about to welcome back injured young star Ezequiel Barco, but the second-year team very much has its sights set on being a title contender, and Carlos Bocanegra is going to need to make one or two more additions to give Atlanta a strong chance at a title run.
As for LAFC, two straight losses have helped take the air out of the black and gold balloon, though it would be foolish to write the expansion team off just yet. Moutinho is going to have his growing pains, but he's still an impressive talent and rookie of the year favorite. Zimmerman and Ciman need games together in order to develop a good working relationship, with Saturday being their first start together. Bradley has yet to have Omar Gaber available, while Eduard Atuesta is still easing into the rotation after arriving late in preseason. Throw in the impending arrival of Portuguese midfielder Andre Horta, and you could still have the makings of a very strong Western Conference contender.
Bob Bradley's team will have to endure some growing pains to get there though, and learn some harsh lessons, like the one Atlanta United taught on Saturday. It has been a rough two weeks for Major League Soccer's newest team, but don't expect Bradley to start pressing the panic button. After all, Bradley's 1998 Chicago Fire started their expansion season with two shutout wins followed by five straight losses. That Fire team eventually found its groove and went on to win an MLS Cup title.
No, that doesn't mean LAFC is on its way to a title, but the newest club in MLS does have the makings of a very good team. Atlanta United, on the other hand, is already a very good team, one that just might be on its way to a title.