América
La Volpe certain Club America players are behind him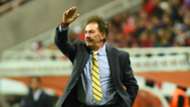 Despite rumors to the contrary, America coach Ricardo La Volpe said his players are 100 percent behind him and his project.
With the club winless in its past three games, including a 1-0 defeat in Saturday's Clasico Nacional against Chivas, reports have indicated that the 65-year-old Argentine has lost the locker room. But in an interview with TDN, a relaxed La Volpe claimed that his players very much still believe they can turn things around under his watch.
What we learned from Liga MX Round 7
"They're with me to the end," the coach said. "I talk with Pablo (Aguilar), to (Paolo) Goltz, with (Agustin) Marchesin, with (Miguel) Samudio, with everybody. We have a very balanced team, a team in which the young players need to get some experience."
With the Clasico Joven against Cruz Azul approaching this weekend, La Volpe also lashed out against the coach of La Maquina, Paco Jemez. While the Spanish coach arrived this winter with the expectation of turning Cruz Azul around, the team has managed just one victory in seven matches.
For La Volpe, the faith in Jemez speaks to something deeper in Mexican soccer, with television analysis programs more likely to throw out questions about whether a manager should get fired instead of looking at tactics.
"I don't like to talk about other managers because I've got to have a little respect about this, but he sells smoke," said La Volpe, using a Spanish expression akin to calling someone a snake oil salesman. "We always put in managers like that here in Mexico, and I consider myself Mexican because I was formed as a manager here. But he sells smoke, and they like it."
The Mexico City clubs meet at the Estadio Azteca at 10 p.m. ET on Saturday.