Kuala Lumpur
KL president reluctant to let Selangor share KLFA Stadium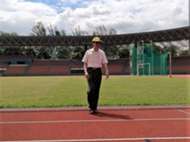 ---
BY        ZULHILMI ZAINAL       Follow on Twitter
---
When asked by the press during the unveiling of new signings Achmad Jufriyanto Tohir and Syazwan Andik Ishak, Kuala Lumpur (KL) chairman Datuk Seri Adnan Ikshan expressed his reluctance to allow Klang Valley rivals Selangor to share their stadium this season.
Selangor have been declined from using the Bukit Jalil National Stadium as their home ground, and although they have secured the use of the Selayang Municipal Council Stadium, they reportedly have also applied to share KL's newly-refurbished ground the KLFA Stadium in Cheras, as the venue in Selayang can only host late afternoon kick offs.
Adnan told the press on Monday that the issue is a delicate matter to him.
"Can I not comment on this?
"Selangor are our friends and neighbours, and I was born in (the state of) Selangor myself. Selangorians are going to bash me for this!" said him in jest.
But what matters to him the most is the effect of heavy use on the pitch, as the KLFA Stadium will also be used by Premier League side PDRM, as well as by the City Boys.
"The pitch cannot be used too frequently. It is now used by a Super League club (KL) and a Premier League team (PDRM), so we can alternate the use.
"Further down the line other competition matches will be played such as the FA Cup and the Malaysia Cup. Even our youth teams don't get to play at the stadium. For now we will share the ground with PDRM, the rest is up to other parties such as the Kuala Lumpur City Council," said Adnan.
Coincidentally, the newly-promoted KL will play Selangor this Sunday, on matchday one of the 2018 Super League, the return of the so-called Klang Valley Derby to the top tier. And Adnan relishes being welcomed back to Malaysia's highest division by their rivals.
"This is a positive match-up, and an interesting one. Both are Klang Valley teams. We have a good crowd, and I am sure that Selangor will have a good backing as well.
"I hope the encounter will motivate our players. It is a huge challenge but we are more than prepared to take on Selangor," he stated.