Premier League
Kotoko's Africa target for Akonnor realistic - Zito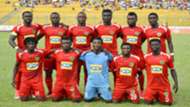 Former Asante Kotoko coach Abdul Karim Zito says the target of winning the Caf Champions League set for new boss Charles 'CK' Akonnor is a realistic one. 
Akonnor, who has signed a three-year deal, was unveiled as new head coach of the Porcupine Warriors on Wednesday, replacing the departed Samuel Paa Kwasi Fabin. 
Management's goals for the new man, though, has raised concerns, considering the Kumasi-based side's last good performance in Africa came in 2005 when they reached the 2004 Caf Confederation Cup final. 
"For three years, I think it [target] is ok," Zito told Metro FM. 
"The first year, he is to access the strength of the team and he will build upon.
"The target set for him is a realistic target and I know CK Akonnor can do it."
Akonnor, former captain of the Black Stars and German side Wolfsburg, last coached local side Ashanti Gold. He ended his tenure in June after falling out with management. 
"I'm very happy Kotoko has appointed C.K. Akunnor as their head coach," Zito added. 
"It was his dream to coach Kotoko - he has been saying it [for a long time]
"Kotoko is a team any oach will love to coach.
"The current team is not doing bad at all and I think coach C.K. Akonnor will continue the project of Paa Kwasi Fabin."
Kotoko, two-time winners of the Caf Champions League, lasted appeared in Africa this year where they were eliminated in the preliminary round of the Confederation Cup.