Liverpool
'Klopp must win a trophy this season' - Thompson demands Liverpool silverware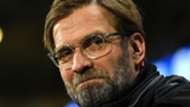 Liverpool must end their trophy drought under Jurgen Klopp and should not take the opportunity to win the Carabao Cup lightly, according to Phil Thompson.
Despite reaching three cup finals during Klopp's tenure, the Reds have not claimed a piece of silverware since winning English football's second tier cup competition in 2012 prior to the German's appointment.
Six wins in a row at the start of the season sees Liverpool top of the Premier League table, and they also beat Paris Saint-Germain in their opening Champions League group game en route to setting a club record.
Attempts to topple last season's title winners Manchester City and improve on defeat in the Champions League final to Real Madrid are the priorities for Klopp's side this term after spending upwards of £182 million ($239.5m) in the summer.
But Thompson, the ex-Liverpool defender, says the club should not dismiss the League Cup ahead of Chelsea's third round visit to Anfield on Wednesday.
"It would be great, I would love to do it and it's a trophy," he told Sky Sports.
"Jurgen has to win a trophy this year. For the quality of squad he now has, he has to win a trophy.
"It gives him a great opportunity and I would gladly take the Carabao Cup, but you have to look where your priorities lie, which is what most managers do and make changes in these early rounds.
"Dare I say it, a lot of managers over the years, in the big six clubs, have put out weakened teams thinking if they do get knocked out they will take it on the chin and it will give them a better chance in Europe and the Premier League.
"They obviously don't want to go out at the early stage, it's not very nice, but come later in the season they will view it as a godsend."