Al Hilal
King Cup Review: Giant killing as Al Hilal suffer early elimination
Saudi King Cup Review: Giant killing as Al Hilal suffer early elimination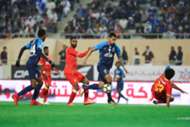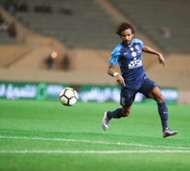 Another week, another bad result. This time, Al Hilal's poor performance culminated with a match in the cup which meant there was a probable chance that they would be eliminated from the competition they had just won the previous season. Today they face Al Qadisiyah, a minnow compared to Al Hilal, in the Round of 16, after disposing of First Division side Hajer in the Round of 32.
Missed chances, a lack of planning, mistakes coming from even Al Hilal's best players; the problems piled up on Al Hilal and their coaching team led by Ramon Diaz and his assistant (and son), Emiliano.
With a drab first half ending with a 0-0 scoreline, Al Hilal managed to come out into the second half with no renewed motivation to win this match. It would be a shock for Al Hilal – one of the Big Four in Saudi Arabia – to be eliminated in the quarter finals of the competition, let alone the Round of 16. Yet, this did not lead to any changes.
Only when Al Qadisiyah scored a wonder goal via Bismark from the right side of the pitch (helped by a deflection from Gelmin Rivas) did Al Hilal's players start to think of playing with fighting spirit, with the last 20 minutes seeing more than 80% of the possession be with Al Hilal and golden chances missed by the likes of Mokhtar Fallatah and Gelmin Rivas.
Despite all of their attempts, Al Hilal ended 95 minutes against Al Qadisiyah with no goals scored and were eliminated from the Cup known as the most valuable in the nation.
This was unlike Al Ittihad, who defeated Al Ettifaq 2-1 and progressed to the quarter finals alongside Al Hilal's fierce rivals Al Nassr. The latter needed a single goal by Mohammed Al Sahlawi to defeat First Division side Al Nahdha. Al Faisaly joined them by defeating Al Nojoom, with 4 other matches yet to be played (including the final team in the big four, Al Ahli Jeddah).