FIFA Club World Cup
Kenya adds another referee to the FIFA list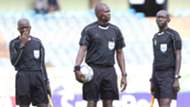 Stephen Yiembe has been promoted to the list of top Kenyan referees who will take charge of selected FIFA assignments for the 2018 calendar year.
Yiembe, who underwent a rigorous two-year UEFA Sponsored course in Zurich, Switzerland, now join Andrew Juma, Davies Omweno, Anthony Ogwayo, Peter Waweru and Israel Mpaima in the list released by Football Kenya Federation.
"We have had Kenyan referees represent us in the CAF Champions League, African Nations Championships (CHAN) and the World Cup, which is a boost to our levels of officiating," said Referees Manager Sylvester Kirwa told FKF website.
Meanwhile, FKF has scrapped the Sh3000 PET fees while at the same time increased the frequency of the PET's and referees' courses to keep the match official updated on the laws of the game as well as their personal fitness.
A total of 61, 75 and 60 KPL, NSL and Division One referees were trained in January 2017, with a further 106 referees trained during the FKF mid-season break.
The federation also trained 13 Referees instructors, 38 KPL match Commissioners 35 male referees in the FIFA MA course and 35 female referees in the FIFA women Referees Development Course as well as 100 referees at the grass-root level.
Full List of 2018 FIFA Referees
FIFA Referees
Omweno Davies, Ogwayo Anthony, Andrew Juma, Waweru Peter, Mpaima Israel
FIFA Assistant Referees
Aden Marwa, Cheruiyot Gilbert, Kidiya Tony, Odhiambo Oliver, Achila Joshua, Yiembe Stephen
Women FIFA Referees
Wanjala Carolyne, Itubo Agnetta
Women Assistant Referees
Njoroge Mary, Kiles Carolyn, Cherono Jane.