NxGn
"Kanu called and said 'Arsenal want you!'" - Kelechi Nwakali reveals all
---
EXCLUSIVE
---
Kelechi Nwakali is enjoying life in the quaint Dutch city of Maastricht. Despite being just 18, there is hope among those at Arsenal that he can go on to become a first-team regular and follow in the footsteps of his uncle Nwankwo Kanu.
NxGn: The top 50 teenage talents
The cobblestone streets of Maastricht are a long way from the hallowed Emirates Stadium turf which Nwakali has dreams of playing on, but his rise to prominence in the Eerste Divisive this season confirms why Arsene Wenger made the quick decision to snap up Nigeria's hottest prospect after the FIFA Under-17 World Cup in Chile two years ago.
"It's good living in Maastricht. A small city and quiet - a big difference from Arsenal," Nwakali tells Goal in an exclusive interview after making the NxGn list of the top 50 teenage talents in football today.
"London is a big city compared to Maastricht but what matters is my adaption because I'm a footballer and I think our life is all about travelling."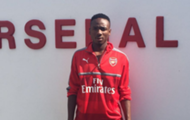 Nwakali recently returned to Nigeria on a short break and his generosity was praised after he donated six sets of jerseys, 18 pairs of boots, training kits, training cones and corner flags to former club ASJ Academy. The youngster hasn't forgotten where he came from but reveals how he didn't think twice about leaving for London after a phone call from an Arsenal legend.
"Kanu called me [after the U-17 World Cup] and said Arsenal wanted me; that the boss [Arsene Wenger] called him about me," he explains.
"He's [Kanu] been my mentor, a brother and a friend. He advised me to go and develop and prove who I am. He is my mentor and a friend. He calls me every day and I get advice from him every time.
"From a young age I've dreamt of playing for Arsenal. I think God made it easy for me because that has been my dream team."
Donnarumma crowned NxGn winner
The Nigeria U-20 captain is rated amongst his country's finest talents, alongside the likes of Kelechi Iheanacho, Alex Iwobi and Wilfred Ndidi, all of whom have already made waves in the Premier League.
For now, though, Nwakali remains focused on proving himself in the Netherlands for MVV Maastricht, where he has become the league's hottest talent thanks to his match-winning performances, tricks, flicks and assists.
"Arsenal have a lot of players and the only way you can play for the first team is through hard work," he reasons. "I play as a No.10 and as No.8 but, since I've come to Holland, I've been playing as a right winger.
"It's my first time in that position but the coach decided that I should play there. As a young player I have a lot to offer - but it's all about timing. The most important thing is that I believe I have the ability to play in a lot of positions."
Coming from Nigeria to Europe is a culture shock for most young players but Nwakali has taken it in his stride, immersing himself in new experiences and sticking by his promise to work hard throughout his career.
He cites the help of his parents as a huge part of making it as a professional footballer and says that the 2014 FIFA Under-17 World Cup in Chile gave him the platform to show the world his qualities.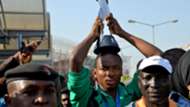 "Going from Nigeria to Arsenal is a difficult task because a lot of young players want to go to England. It's all about determination and hard work. I went to Chile and played as the captain, won the trophy and best player award. It was a very big platform for me to continue my career. 

"Nigeria is not like Europe, so it's a difficult place to survive. You have to work hard to get what you want. Both my mum and dad played important roles before I got to where I am today.
"I lost my dad in 2006. He was a big Arsenal fan, a diehard Arsenal fan and he and my mother contributed a lot, buying boots, jerseys and taking me to training."
The biggest challenge on Nwakali's hands over the summer will be doing enough to impress Wenger in pre-season. He faces a wealth of attacking options in front of him but compatriot Iwobi, still only 20, is the perfect player to take inspiration from.
Donnarumma can be better than Buffon
Whether he comes back to fight for a place in the first team or spends another campaign out on loan to gain experience, you can be sure that Nwakali will be do everything in his power to secure a place in the Arsenal XI.
"I'm not the one who will decide what happens but all I can do is work hard and let the boss see that. If Arsenal decide that next season they want me to play in Arsenal, no problem.
"If they decide they want me to come back to London, it's still no problem. They have to make their choice and I will respect it.
"I think Nigeria have the most Arsenal fans in the world because of Kanu. I know they are expecting to see me play in Emirates Stadium and I promise them I will work hard to fulfil their expectations."