Premier League
Kante success shows Mahrez was wrong to stay loyal to Leicester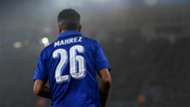 "The last time I sat in this chair, the next day I was sacked," said the Manchester United manager Jose Mourinho when addressing the press from Leicester City's media room following his team's comprehensive 3-0 victory.
Leicester – en route to supplanting Chelsea as Premier League champions – fired the final, fatal arrows at Mourinho's increasingly paranoid regime in December 2015. Because of that season, Mourinho knows all about what it's like trying to hoist a sagging team who can't – or won't – put in the effort which earlier brought them success.
Football world reacts to Superbowl LI
Mourinho's calmer now; he probably relayed to Claudio Ranieri after this game the lessons he learned from the end of his Chelsea days. Not that it would do much good. It's clear what's wrong with Leicester. The qualities which brought them the Premier League title – hunger, togetherness, discipline – have been thrown into the wind.
Maybe the title win defined too many of these Leicester players' professional lives. Real champions toss the medal aside and look for the next challenge. Too many of these were fattened by one feast.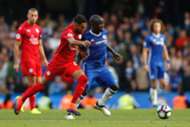 Last summer was the time for Leicester's key players to look around, and seriously consider, whether the club had achieved all it could. Sure, to stay would guarantee a pay rise of hundreds and thousands of pounds but what further glory could be gleaned at a club whose one title success was an absolute, bona fide, 5,000/1 moon shot?
Now is a good time to consider both sides of that decision – to stay or go.
There is a fair chance that Chelsea will win the Premier League title this season and that N'Golo Kante will win the Player of the Year award. There is a fair chance that Leicester City and current award holder Riyad Mahrez are getting relegated.
Aguero drops major Man City hint
Kante was the under-rated attraction in Leicester's run to the throne. He was offered "a substantially improved, long-term contract" to stay at the King Power Stadium but the France midfielder himself admitted that the opportunity to go to one of the biggest clubs in Europe and work with Antonio Conte was too good to turn down. Ranieri mock-strangled his former charge when he visited last month and conducted a 3-0 victory for his new club.
At times last season it appeared as though Leicester were playing with 12 men - just as it does for Chelsea this term. Kante's ability to cover the midfield like no other player had the twin benefits of masking the deficiencies in the play of Robert Huth and Wes Morgan at centre back as well as ensuring Ranieri could play with two up front. Even when outnumbered in midfield, Kante and the dogged Danny Drinkwater often got the better of three-man combinations up against them.
This season it appears at times that Leicester are playing with 10. They have tried to replace Kante with Nampalys Mendy, Wilfred Ndidi and Daniel Amartay at different times but to no avail. Happily for Chelsea it is they who are benefitting most from Kante's unique levels of application and control.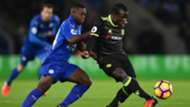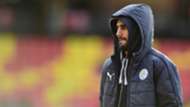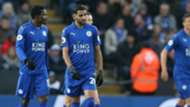 Winning the Premier League – even once – is going to be the peak of a lot of these Leicester players' careers whereas Kante is going to win it twice in succession. Wes Morgan, Kasper Schmeichel, Andy King and Jamie Vardy have put in the hard yards down the lower reaches of English football. This is their crowning glory.
Vardy did the right thing by leveraging Arsenal's interest last summer to sign the biggest contract he's ever had put in front of him. At his age, at this stage of his career, he'll never surpass what he did last term. Similarly, the likes of Christian Fuchs and Robert Huth would never in a million years dreamed of signing for Leicester and winning the league. They were probably preparing to stay in the league first and foremost.
Kante and Mahrez are different. They were scouted well – by Steve Walsh – and clearly moved to Leicester with the progression of their careers in mind. They are, and still should be, on the rise.
Kante got out quickly even when the temptation to stay loyal must have been strong. Champions League football was on offer and it wasn't at Chelsea. And with the right signings Leicester maybe could have kicked on. But he's been proven absolutely justified in his decision to quit.
Mahrez should have gone too. Arsenal and Paris St-Germain were two clubs linked with the Algerian – voted the Premier League's and Africa's best player last season. He demanded a salary commensurate with his status – no problem there – and declared himself willing to stay put. Looking back, what was the value in that? None whatsoever; it's been a wasted year.
Watch: Ligue 1 clash ends in brawl
Leicester owed it to Mahrez to improve. Leicester owed it to Mahrez to give him a team that he deserved. He did not need another year looking around the pitch and seeing guys who'd come up from the Championship who - subconsciously or not – had climbed the only mountain they were ever going to climb.
To watch Mahrez in action against Manchester United was a study in frustration. He made his way back to the halfway line after Leicester had given up their third goal of the afternoon – just after half time – and he was muttering to himself. He was pointing his hands this way and that – almost having an imaginary conversation with those Leicester players who'd been at fault for the goal. He stood after the final whistle with his hands on his hips being consoled by Paul Pogba. A penny for his thoughts. 
Maybe they should have sold everyone in summer and sacked Ranieri. There was no chance of replicating what the did, so why pretend? They convinced themselves they could go again. Then they misfired badly in the transfer market. Now they cannot raise their levels; they cannot stop making mistakes. They cannot even get the ball to Mahrez.
One fateful night in Leicester, Jose Mourinho railed against his own players. The next day he was unemployed. But loyalty cuts both ways. It was one thing convincing Mahrez to hang around but giving him the conditions to thrive is another thing altogether.