Southeast Asian Games
Kanitsribumphen keeps Thailand's gold medal hope alive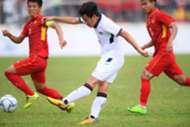 Thailand landed a statement win over Vietnam in the final Group B match of the 2017 KL SEA Games football event. The War Elephants came away with an emphatic 3-0 win over The Golden Stars to reach the semi-final stage as group champions.
The star of the show was none other than Worachit Kanitsribumphen. The midfield workhorse played an instrumental role in helping his team to not only defeat Vietnam, but to know them out of the competition completely.
Even though Kanitsribumphen only got to play because of the suspension to Chaiyawat Burna, the Chonburi FC player took the opportunity with both hands, displaying sterling skills in the middle of the pitch under very difficult situation at Selayang Stadium.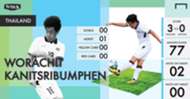 Kanitsribumphen dovetail brilliantly with Noppon Ponkam in midfield, taking turns to support Chenrop Samphaodi up front as Thailand put Vietnam to the sword through their incisive counter attacking moves. The 20-year-old midfielder also dropped back to support his defence when necessary and made it difficult for Vietnam to find their way back into the game.
The one move that typify the type of player Kanitsribumphen is, was when he collected the ball in the second half following a collision between Vietnam's keeper and his defender but unselfishly passing the ball to Picha Au-Tra for a tap-in. 
His tireless work and generosity, earns Worachit Kanitsribumphen Goal's man of the match award for his performance in Thailand's win over Vietnam.