UEFA Champions League
Juventus' mental strength a stark contrast to stupid Sevilla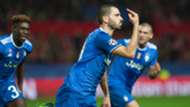 The front page of Tuesday's Tuttosport described an injury-ravaged Juventus travelling to Sevilla as a "test of strength". It also became an examination of their character. They passed with flying colours - on both counts.
Dortmund & Legia make CL history
Despite finding themselves a goal down to a side that had yet to concede in this season's Champions League, the Bianconeri managed to turn the game around and claim a crucial 3-1 victory that not only sealed a spot in the last 16 but also means that a point at home to Dinamo Zagreb on matchday six will see the Italian champions progress as group winners.
As Juve discovered last season, being seeded for the knockout stage can make all the difference in the world. Just 12 months ago, a defeat in Sevilla resulted in Juve gifting top spot in their group to Manchester City. So it came to pass that while the Bianconeri were being beaten by Bayern Munich in an epic last-16 encounter, City were easing past Dynamo Kiev.
Upon his return to the Ramon Sanchez Pizjuan, Juve coach Massimiliano Allegri had tried to play down the significance of finishing first in Group H but he was fooling nobody. Still, top spot looked a long way off after just nine minutes, when Nicolas Parejo beat Gianluigi Buffon with a bouncing volley from the edge of the area.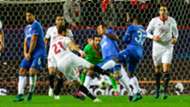 The early goal only further invigorated a Sevilla side that were causing Juve all sorts of problems with their high pressing and impressive work-rate all over the pitch.
When asked before the game who would be his side's principal creator, Allegri had replied: "There will be two: Marchisio and Pjanic." However, both players were hassled and harried into anonymity in the opening quarter, as Sevilla threatened to put the game - and indeed the group - to bed.
However, Sevilla's frenzied, frenetic approach to the game ultimately proved their undoing. When players are asked to play at such pace, with such intensity, sometimes they will step over the line. That is precisely what happened to Franco Vazquez, who was booked twice in the space of 10 minutes.
In relation to the attacking midfielder's first yellow card, Sevilla supporters will claim that Juve should have kicked the ball out of play when Sergio Escudero went down clutching his face moments before, trying desperately and pathetically to convince referee Mark Clattenburg that he had been elbowed by Juan Cuadrado. They will argue that it went against fair play. However, was Escudero's exaggerated reaction to the slightest of contact really in the spirit of the game? Why should an opposition attack be disrupted by an obvious dive?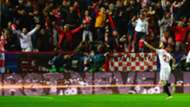 Furthermore, just because one side does not play by an 'unwritten' rule, it does not entitle the opposition to break a real one, which is exactly what Vazquez did by deliberately scything down Cuadrado in what was a clear act of retaliation. Vazquez could, thus, have no complaints when he picked up another booking in the 35th minute for cynically felling Sami Khedira as Juve tried to launch another counter-attack.
Of course, the Argentine's dismissal changed the entire momentum of the match but Juve still would have gone in a goal down at the break had it not been for another show of Sevilla's stupidity just seconds before half-time.
Shirt-pulling is one of the most common fouls in football, particularly in the penalty area, and there is no doubt that so much of it goes unpunished. However, that does not mean that Clattenburg should be castigated for awarding Juve a penalty when Gabriel Mercado tugged back Leonardo Bonucci as the Italy centre-half tried to connect with a corner from the right-hand side.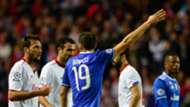 Claudio Marchisio's subsequent successful spot-kick was the just punishment for such a senseless foul - not that Sevilla boss Jorge Sampaoli saw it that way, of course. The Argentine coach had to be restrained by his colleagues when the half-time whistle blew and his second-half dismissal for railing against yet another correct decision was sadly inevitable.
Toure's incredible weight loss
Indeed, whether Sampaoli cares to admit it, Sevilla ultimately paid the penalty for their own stupidity. The late goals from Bonucci and Mario Mandzukic were undeniably harsh on those Sevilla players who had spent the second half fighting valiantly to keep Juve at bay but the truth of the matter is that they were not let down by the referee - but their own team-mates.
Juve had arrived in Sevilla with a weakened squad but it was they who had the mentally stronger side on the night - and that made all the difference.