PSL
Josephs slams 'uncommitted' Orlando Pirates players and labels them 'Instagram stars'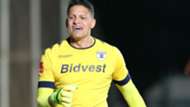 Bidvest Wits goalkeeper Moeneeb Josephs has slammed Orlando Pirates players for their lack of commitment.
The Buccaneers have endured a poor season - having failed to finish in the PSL top eight for the first time in the Premier Soccer League (PSL) era.
Josephs, who recently helped Wits clinch their first PSL title, feels that Pirates players are not doing their bit.
"Definitely' definitely. 'Schillo' is a big Orlando Pirates supporter. Big' big – massive'" Josephs told the media..
"I think he would bring something. He'd bring that spark back to Pirates. I'm vouching for Steven to come to Pirates," he continued.
"Because Orlando Pirates need a player like him. Not these players who are Instagram players. No. They need a player like Steven Pienaar – a real star' to come and turn things around for Pirates again.
"Many of these players' you can see they are Instagram stars. Not doing the business for Pirates – there isn't pride any more for that jersey," he stressed.
"They're not playing for the team' for the 'Ghost' (Bucs' fans)' for the ancestors. They're playing for Instagram. Whatever they're doing at training it's done for Instagram – it's c**p.
"Bring the big stars' bring the real stars. They should go and chase Steven Pienaar and show the boys there what a real star is," Josephs added.
"That's what Benni came and did for us at Pirates. They brought a big star and he turned Pirates around.
"And Steven needs to come and do that at Orlando Pirates now. Sorry' I was just emotional now. Because I'm Orlando Pirates'" he said.
"I like Orlando Pirates – they've been wonderful to me. They gave me a stepping stone to play on the biggest stage of my career.
"And to see the players there now doing what they are doing' representing the team like they're doing with fans who are hungry for success," Josephs indicated.
Pirates are set to take on SuperSport United in the Nedbank Cup final on the 24th of June 2017.
"I don't give them the Nedbank Cup final – that doesn't bother me. It's the type of football they are playing' the way they are going about losing games – and the next thing they are on Instagram as if nothing has happened.
"That p**ses me off. And for a team like Orlando Pirates that's not enough. They need to win this trophy. But there's not enough pride – not at all," he explained.
"Bring Steven Pienaar to Orlando Pirates. The chairman should go and chase him."