Manchester United
Mourinho: I want to stay at Man Utd for more than three years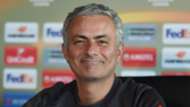 Jose Mourinho has admitted he would "love" to stay at Manchester United beyond his current three-year contract.
Mourinho agreed a deal with the Red Devils in May which expires in 2019 and, despite enduring an indifferent start to life as United boss, sees his long-term future at Old Trafford.
WATCH: Evra hangs out with monkey
The former Chelsea boss acknowledged, however, that he must deliver success in order to make that hope a reality.
"Let's go step by step," Mourinho said. "I am in the beginning of my contract and also in the beginning of the process.
"If you ask me if I want to stay longer than three years? Then I say yes I would love it, but also I have to earn and deserve that.
"If the club feels I deserve to stay then I will be very, very proud. The job is as difficult as I was expecting; when I said I wanted to win the Premier League this year, I said it was risky.
"I still can't believe how we didn't win our last three home games because we played so well, yet we didn't win."
Saturday's 1-1 draw with Arsenal left United in sixth position in the Premier League and nine points adrift of leaders Chelsea, whose coach Antonio Conte is also in his first season in charge.
But Mourinho believes United are moving in the right direction and pointed out that even Sir Alex Ferguson had needed time to turn the club around.
"I think by playing well the future can be bright," he added. "The team is happy with the way they're playing, they are happy with direction.
RUMOURS: Scholes set for Wigan
"With our style of play we are keeping people believing that the good results will come.
"The best manager in Premier League history needed a few years to build a successful period. If the best needed time, then others do too."