Farizal Marlias
Farizal glad nightmare is over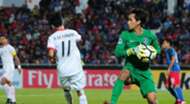 Wednesday's AFC Cup between Johor Darul Ta'zim (JDT) and Persija Jakarta not only signalled the beginning of the Southern Tigers' campaign to reclaim the trophy they won back in 2015 but it was also a new beginning for one particular player.
The final day in May in 2017 was the last time that Farizal Marlias played in a competitive football match. His action in the AFC Cup tie against Ceres-Negros FC led to Asian Football Confederation (AFC) heaping a year-long ban on him, but one that was reduced after appeals were done.
As the ban ended on February 10, Farizal was selected by Ulisses Morais to start where he stopped, in a AFC Cup match. It was a comfortable reintroduction for Farizal as he team completely dominated their Indonesian counterpart to emerge with all three points.
"After so long not in action, of course I was a bit nervous. But the support from the my team mates who constantly motivate me to do my best. I only did the usual routine, following the instructions from the coach before going onto the field."
"Thankfully everything went well and we got a positive result in beating the Indonesian club 3-0. The suspension is a black mark but it's one that is in the past and I've forgotten about it. My target now is to give full commitment to JDT for the rest of the M-League and AFC Cup campaigns," said Farizal in a Harian Metro report.
His eight months of absence have allowed Izham Tarmizi to stake a claim for the number 1 spot at JDT with Haziq Nadzli seemingly the preferred option now after showing great form in the recent AFC U23 Championships.
A relieved Farizal is not thinking too far ahead though and wants to ensure that he only continually give his best during training in order to prove himself once again. Nothing quite like forcing a footballer to be on the sidelines to make him realise what he misses the most.
"Whoever is fielded will be down to the coach but if I'm given a chance, for sure I will do my best. We have a good relationship between myself, Izham and Haziq as we often work together during the training sessions," added Farizal.