Dominic Tan
Dominic looking forward to Portuguese challenge alongside Syamer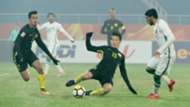 Fresh from his exploits with the Malaysia Under-23 side at the 2018 AFC U23 Championships in China, Dominic Tan will now have to pack his bags again, this time for a longer period than just one month away from Malaysia. 
Johor Darul Ta'zim (JDT) announced on Thursday that together with Syamer Kutty Abba, both the 20-year-olds will be spending a year out on loan to Portuguese club, Vilaverdense FC. 
The club based in Braga, are currently playing in the Terceira Divisão Série A, the third tier of Portuguese football. Despite the division that the club are in, Dominic strongly believes that the standard is still higher and that the both of them can utilise the opportunity to improve themselves.
"Definitely the level of football in Portugal is much higher than we are used to here in Malaysia. This club while not in the top two tier in Portugal, they are still better than us and I'm sure I can still learn a lot of things there." 
"I have to start from zero over there. It's a good thing as I'm not promised anything. It's a challenge for me to improve myself," Dominic told Goal when asked about this loan stint.
Citing the opportunity to go abroad as one of the reason for him to join JDT in the first place, the close ties the club have with clubs from all around the world is what opened the chance for him and Syamer. 
It would have been tougher had Dominic been the only one flying off to Portugal on Friday but the fact that JDT are sending him and Syamer together bodes well, particularly given the friendship that they have built up at the Malaysia U23 squad.
"Going together with Syamer is of course helpful. We can help each other settle down quicker. Easier to go with someone that I'm familiar with. At the end of the day, it's an opportunity for Syamer and me to go there and learn, to improve and one day we can come back and repay the club." 
"I want to learn new things that I cannot learn in Malaysia. The professionalism there, the training, the diet, the game preparation and all those," he added.
Dominic excelled in the back three for Malaysia in China, alongside Irfan Zakaria and Adam Nor Azlin. Together, they formed a formidable trio in defence that helped Malaysia achieved a quarterfinal place in the tournament.
From a difficult 2017 season, Dominic has certainly started the 2018 season on a high and it's that momentum that he should embrace to continue to improve himself at the next level with Vilaverdense.