Johor Darul Ta'zim
JDT set 2021 target for ACL progress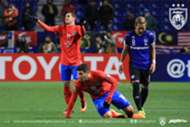 History will be made in March 2019 when Johor Darul Ta'zim FC take to the field for their first AFC Champions League (ACL) groups stage encounter as they will be the first Malaysian team to do so.
But just like Europe when clubs make the transition from Europa League to the UEFA Champions League, it is a gigantic step up in terms of quality.
Whether it is against a club from South Korea, Japan, China or Australia - there's no doubt that the challenge that lies in wait for JDT will be tougher than any of the ACL qualifying rounds or AFC Cup matches that they have been involved in previously. 
The closest comparison is perhaps the playoff match in 2017 against Japan's Gamba Osaka. Gamba won that one 3-0 and were at a canter throughout the match which highlighted the gulf in quality between the two teams.
Two years on from that, JDT have a chance to show that they have improved since then but it would be nothing short of a miracle if they managed to get a win on their first go in the Asia's elite football competition, let alone getting out from the ground stage.
Club owners HRH Tunku Ismail Sultan Ibrahim acknowledges the difficulty of the task ahead and estimated that for his team to be really competitive in the ACL, they may need to grow the team a further 24 more months. 
"I think we need at least two more years. Buriram started their project like what we do here in JDT six years before us. Same goes with Muangthong, Chonburi and all. I admire the Thai League a lot."
"I do not like to see Serie A or La Liga, I want to see my neighbour and I think my neighbour is doing a tremendous job. Scouting for young talents, developing young players and giving them good exposure playing in top class facilities. 
"An army team or a navy team had better facilities than a Super League team here. They put the money in the right places and I hope that somehow we in Malaysia can copy this.
"I don't have big expectations. We have to be realistic. This will be the first time someone will be representing Malaysia at the highest level in Asia. That said we don't want to be whipping boys, we want to be competitive," said Tunku Ismail after a meeting with the Sportswriter Association of Malaysia on Monday.
However with that bring said, Tunku Ismail is hopeful that the opportunity to clash wits against supposedly higher quality of players will also be beneficial to the growth of the players in his team.
Speaking with the likes of Syamer Kutty Abba, Adam Nor Azlin, Safawi Rasid and Dominic Tan in mind, he indicated that the Malaysia national team will also be able to reap the benefits of the experience gained in the competition.
"I'm proud and happy that our young local players will be getting a chance to play at that level. It will give them the exposure to play with good players and they can learn so much more."
"It's not only something that will benefit the club but also Malaysia, so it's a win-win situation for Malaysian football to have JDT participating in the ACL," he added.
Thus the next big milestone for The Southern Tigers looks likely to come in 2021 when they will be expected to make a big push towards advancing past the group stage using the all the learnings from 2019 and a possible 2020 participation in the ACL.