Africa Cup of Nations Qualification
Coach Ibrahim Kamara looking to correct Ivory Coast mistakes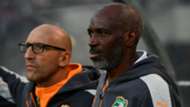 Ivory Coast coach Ibrahim Kamara has heaped praise on his players following their 4-0 demolition of Central African Republic (CAR) in the 2019 Africa Cup of Nations qualifiers at home.
The Ivorian Elephants are in second spot in Group H, behind leaders Guinea.
After a false start to their campaign that began with a 3-2 loss to Guinea at home last year, Ivory Coast have recovered by beating Rwanda away last month.
Since being appointed Ivory Coast coach in July, Kamara has made it two wins out of two.
"There are still things to correct," Kamara was qoted as saying by Sport Ivoire.
"But I have to congratulate my players who did the job. It was a very good match. Our solidarity and the state of mind of the players were the keys to this victory. Now, there are things to correct for the second leg. We will prepare for the Bangui fight."
Ivory Coast meet CAR again in the return fixture away in Bangui on Tuesday.