Arsenal
'It would have been easy to sack Wenger' - Arsenal owner Kroenke
Arsenal owner Stan Kroenke believes giving in to pressure to fire Arsene Wenger would have been an easy move to make, but thinks keeping the veteran coach was the right move for the club.
A disappointing 2016-17 campaign saw the Gunners hit a new low under Wenger as they failed to qualify for the Champions League for the first time in two decades, though the club did win the FA Cup.
Arsenal 11/8 for a top four finish
The frustration during the season was high among the Arsenal supporters, with banners being flown during game days calling for Wenger's sacking.
Ultimately, Arsenal decided to give Wenger a two-year contract extension, and Kroenke believes Wenger's handling of the heavy criticism proves his internal fortitude.
"Arsene is strong, he's focused and I think he showed through all that," Kroenke told the Daily Mirror ahead of the club's Annual General Meeting.
"We always evaluate, and it's fair to look at all the factors involved. But when you make decisions like that, you are weighing lots of different factors, but you hope that you weigh them correctly and come out with the right decision. I think we did."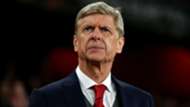 Kroenke believes it would have been easy to give into the quick trigger mindset that has become common in the Premier League today. However, he added that hunt for a quick fix does not always set clubs up for long-term stability.
"It's easy to change coaches and people do it all the time. But the hardest thing is to replicate success and remain competitive," Kroenke said.
"You have to approach it with clear-headedness, calmness, thinking for the long term rather than the short-term. An easy answer is it's easy to do something. It's harder not to do something."
Likewise, Kroenke is convinced Wenger also did some hard thinking on whether he wanted to continue, and has no doubts the manager still wants to compete for trophies — drawing on his experience from his other many sports teams, such as the Colorado Rapids of MLS and the Los Angeles Rams of the NFL.
"I think both sides have to get comfortable as they move forward. It takes both sides, not just us," Kroenke said.
"I'm sure he was thinking through if he wants to go on. If I see anything, then I think he is more focused than ever – when I'm around him. Focused on winning. I really think I do see that more than ever. He wants to win these things.
"He's really focused and really smart, he wants to win the things we are talking about.
"We have dealt with this a lot in different organisations and we just think that Arsene is doing a great job and he's the right guy.
"We have a lot of respect for Arsene — we are not going to be pushy about things. I think he treated us with respect as well and always has.
"We feel really strongly about Arsene."