Manchester City
'It's banter' - Man City forward De Bruyne laughs off criticism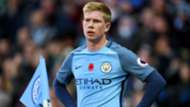 Manchester City star Kevin De Bruyne is not concerned by the constant scrutiny footballers face, stating he laughs at criticism he receives.
Highly-paid sportsmen are often seen as easy targets, with any dip in form dissected in minute detail.
Many of those under the brightest of spotlights see their every move judged, both on and off the field.
Sane: Pep's improved me in all areas
Operating in such a goldfish bowl can be difficult at times, with the emotions of those on the outside looking in changing on an almost daily basis.
De Bruyne has been around the game long enough now to realise that comments made in the heat of the moment are best to be ignored, or at least taken with a pinch of salt.
He feels those quick to pull footballers up on a supposed lack of effort do not appreciate the dedication required to compete at the very highest level.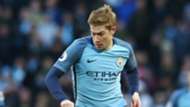 The Belgium international told Duse Magazine on the criticism aimed at those in his profession: "I don't really care because that is everywhere. People don't know the work we put in. If you are at home resting, you are resting because you need to play on Saturday.
"It is just part of the job - you need to have the treatment, do the massages, training, go in the pool.
Bravo: Future reports are false
"So I think our job is 24/7. I love my life. We are busy and I don't care what people say. I read comments, what people write on the internet but it makes me laugh.
"It doesn't affect me personally, for me it is banter.
"What I like the most is when people know I am a good guy, I am respectful of everybody. It doesn't matter who you are, the biggest star or the little guy, and you should have the same attitude towards them."