Indian Super League
ISL 2018-19: Mumbai City dispel gloom and doom with a timely win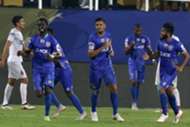 In more ways than one, it was a typical Mumbai City home match. The hype created by social media and football writers about the 'Maharashtra Derby' was almost non-existent in the ground, with curated chants by both home and away fans in a half-empty stadium failing to convince neutrals about the importance of the fixture. 
The action on ground, though, was more enjoyable. It has been a year to forget for Mumbai City and they had won only 3 matches in regulation time till date in 2018. Jorge Costa's team had gathered only a solitary point from their first two fixtures this season and the outings were so anaemic that one journalist had commented that any Mumbai District Football Association team is better than their cash-rich neighbour.
But on Friday evening, they turned up in style. Paulo Machado, the Porto graduate who has handed the captain's arm-band, had a stellar first half and handled with ease the threat posed by the Jonathan Vila – Adil Khan pair in central midfield. After the break, Arnold Issoko and Rafael Bastos were more prominent, testing the Pune City full-backs Sarthak Golui and Chhuantea Fanai.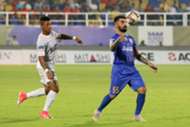 Since Subhasish Bose has cemented his place as a center-back, Costa had the luxury to go ahead with one foreigner in his back-line. That means going forward, four among Machado, Sougou, Arnold, Rafael and Matias Mirabaje will feature in the first XI – making Mumbai one of the most daunting opponents.
But this assumption also puts the spotlight on a defender who was arguably the most off-colour in the club's last two outings. It's almost half-decade since Shouvik Ghosh was being touted as a potential senior national team player while captaining Pailan Arrows, but now he is the only recognized left-back Mumbai have in their ranks apart from Subhasish. Ghosh allowed too much to Nikhil Poojari on at least three occasions, all of which ended up being half-chances mostly because of Poojari's sub-par finishing.
Any further dip in form can force Costa to shift Subhasish to the left-back slot and partner Goian with Marko Klisura, which would jumble the whole game-plan he seems to have right now.
Pune, on the other hand, have their own problems. Poojari made his debut for the club in ISL after spending the last season on the side-lines. But he failed to create much on his own even though he ran into good positions to take a couple of shots. The fact that he made only 6 passes during 60 minutes of football is testament to how anonymous he was at times. Adil Khan's performance also left much to be desired while Robin Singh had little to offer except his physical presence in the box and rash challenges on Sehnaj Singh.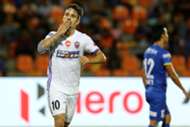 Miguel Portugal will certainly hope that Marcelinho and Stankovic, who were both nursing calf injuries, can infuse some blood on the attacking front for a team that relies heavily on the wings for the supply. Ashique Kuruniyan limped off with a knee injury in the first half and any prolonged absence might lead to major changes in the line-up since Pune doesn't have any Indian left-winger on the bench.
Marcelino and co. will now face serious title contenders Bengaluru FC and FC Goa in their next two fixtures and any slip-up there will not be ideal. The home team, on the other hand, will now travel to Goa before playing off-form Delhi Dynamos and Chennaiyin FC. 
It's often tempting to read too much into the early season results, but it's safe to say that it took Mumbai out of their gloomy start. That was prominent long after the crowd had dispersed and the team buses left, when Raynier Fernandes was mobbed by a group of fans outside the stadium and happily obliged demands for the selfies while a cab waited to take the local lad home for a quick dinner. 
Ranbir Kapoor's side fared excellently on the ground, but they would have liked a lot more fans coming in for a derby game.