Bengaluru
ISL 2018-19: Bengaluru's Carles Cuadrat - We don't know about Miku's return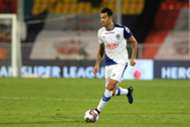 Bengaluru FC striker Miku is nursing an ankle injury and is currently undergoing treatment in Spain, Goal has learnt. 
The Venezuelan forward had injured his ankle ahead of Bengaluru's Indian Super League (ISL) clash against FC Goa on Thursday (November 22). He missed two games - against FC Goa and Delhi Dynamos - already and is set to miss a few more.
The player underwent surgery to his ankle and it could be a few weeks before he recuperates to full match fitness. 
Midfielder Erik Paartalu had also suffered an infection to his toe and missed the game against FC Goa. The Australian recovered in time to play against Delhi Dynamos, coming on in the second half in the team's 1-0 win. 
Coach Carles Cuadrat was forced to field just four foreign players against Delhi Dynamos and when asked about Miku's injury after the game, he replied, "We still don't know about Miku. Let's see what happens this week. We have to find out more on him."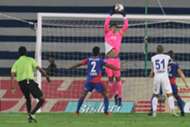 He added, "I hope this is not the kind of injury due to which you lose a player for a long time. It was a special circumstance that we had two players injured and Dimas got injured. I hope we don't need to bring in any other player."
Erik Paartalu's return to the field after his layoff was successful. Cuadrat opined, "We are more or less using the same team throughout the season because we are getting the results. But when you lose regular players like Erik (Paartalu), Miku and Dimas (Delgado) you have to adjust.
"Today (Monday) the players did their best in their positions. Of course, you cannot expect the same level of football. We used Sunil (Chhetri) in the middle from the beginning. The guys gave their best and I am happy that in the end, we got the result."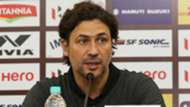 He continued, "We did not want to use Erik from the beginning as he was coming back from a surgery and he did not practice with us. But after the first half, we felt we needed someone in the midfield because Sunil though was helping us there but he wasn't really comfortable in that position. I am happy that at the end he helped us get the three points so I am happy."
The Blues boss also suggested that Bhutanese attacker Chencho Gyeltshen is still adapting to the possession-based style of the team.
"He (Chencho Gyeltshen) is a young player and he wants to grow up as a player. He is trying to help us a lot. He has very good qualities for the counter-attacking game but maybe he is not used to the kind of game we practice. He is trying to get better in the ball possession game and I am very happy with his progress."