Indian Super League
ATK's Sanjiv Goenka - Good to have more teams from Bengal in ISL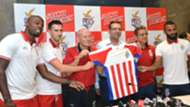 In four seasons of the Indian Super League (ISL), ATK have brought home the cup twice.
A ninth-placed finish last season will not create a permanent dent and will only egg on the side to bring back the glory days, maintained principal owner Sanjiv Goenka at the jersey launch for the 2018-19 season.

"We had a lot of injuries, fitness wasn't up to the mark and we didn't really combine well as a team (last season). This time, we're a well-balanced team. Hopefully, we learn and bring back the glory days to ATK this time," the industrialist said.

Goenka was asked what were his takeaways from being an owner of a football team for the last four and a half years, he replied, "There are two aspects to running any club, one is finances, which you have to keep as tight as possible, bearing in mind a certain level of comfort to the team and the staff.

"Second is the performance where the team performs as one united body. This is where the manager comes in. We had three good seasons, one bad, hopefully, we go back to the good."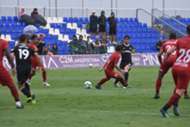 Rumours are strife that the two
I-League
sides from Kolkata,
Mohun Bagan
and
East Bengal
might join the ISL next season. Goenka saw this as a positive step in terms of football in the state.
"We want Bengal's flag to fly high. That (Mohun Bagan and East Bengal joining ISL) is for the league organisers to decide. It will be good to have more teams from Bengal because chances of a Bengal team winning the cup will be higher."
The 57-year-old further shared his thoughts on the ISL entering its fifth season. He said, "The journey has been fascinating. It was known that it will take a few years to become profitable. The support from the league organisers has been wonderful and this can only grow. Evolution is a natural process and experience will only help.
"When it (ISL) was conceived four and a half years ago, nobody expected this to be a huge success. We're talking about a possible competition with cricket in terms of viewership and that says a lot. It is the vision of one person to take football in
India
to the world and we need to salute Mrs Nita Ambani for not only conceiving (the idea) but also taking it forward."
Goenka confirmed that there were plans to start a reserve team that could possibly compete in the 2nd Division I-League as seven other ISL teams had done last season. The focus also remains rooted towards the academy and age-group football.