Indian Super League
ISL 2018-19: ATK's Steve Coppell - Goa can be vulnerable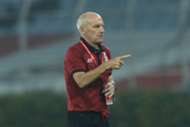 ATK boss Steve Coppell is planning to cut off the supply to FC Goa's Ferran Corominas in order to stop the league's leading goalscorer when the two teams meet on Wednesday. 
The Kolkata-based club is sixth on the table with 11 points from eight matches. Only Bengaluru have conceded fewer goals than Coppell's team and the English coach has made plans for the high-scoring Gaurs as well. 
"Corominas a good player. He doesn't play by himself. He needs someone to take the bullets for him. I think the best way to stop him is to stop the source of his supplies. I think that the challenge for anyone playing against Goa.

"They commit so much going forward, that if you can cut off their supply you have chances of getting a result. We had an idea of what the successful teams against Goa have done. We need to replicate that and really disrupt their flow," Coppell said. 
ATK's season, not for the first time, has been hit by injuries. Kalu Uche was ruled out for the season and was replaced by Emiliano Alfaro who joined on loan from Pune City. Alfaro also had to be replaced due to an injury and in came Australian Eli Babalj who has only recently joined the squad.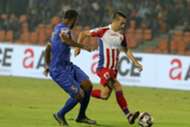 "It's bound to have an impact. When you compile a squad of players, when it was compiled, plan A was Kalu Uche-Manuel Lanzarote. That was the attacking punch. Kalu had minor injuries then he suffers a quadriceps muscle injury. The club acted very quickly to get Alfaro, a proven player. Plan B then came into place.
"But before that had a chance to be performed, it's removed. We've not gone to Plan C. We've had Eli whose come in, who didn't arrive as soon as we would've hoped. But after a few training sessions, he's beginning to settle in. We're now at Plan C. Would you have started with Plan C? No. But we're not complaining. We're making do with what we have."
The former Kerala Blasters coach also opined that the biggest strength of his next opponents is their foreign contingent. 
"I would say the foreigners (are Goa's biggest strength). They've scored most of their goals. Jahouh hasn't scored, but there's the focus on distributing their play. Coro obviously scores a lot. The core of their foreign players is the strength of their side."
Steve Coppell reserved special praise for defender Ankit Mukherjee who has impressed at right-back for the first team. "When the squad was formed, he was the 3rd choice right back. Now he's come in and he's playing. 
"He's quick, enthusiastic and he is the kind of player coaches like to work with. In many ways, he's like a sponge. He accepts everything you say and thinks about it and puts in into practice."
Lastly, Coppell shared his thoughts on how to stop FC Goa. "They've scored a lot from crosses without having a centre-forward who isn't very big. They have cut back many crosses. They don't hang them up into the box.  We're mindful of that. It's a tough game.
"When you play Goa you have to be alive because they're inventive. But, they've lost a couple of games and there is a blueprint to beat them. Last year, they lost 5 games. They can be pleasing on the eye going forward but they can be vulnerable.