Kerala Blasters
ISL 2018-19: David James - The penalty was a key moment in the match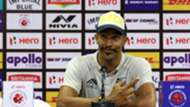 Kerala Blasters were held to a 1-1 draw by Delhi Dynamos in an Indian Super League (ISL) season five clash on Saturday at the Jawaharlal Nehru Stadium, Kochi.
CK Vineeth gave the home side the lead which was cancelled out by Andrija Kaludjerovic in the dying moments of the match.
Speaking on the match, Blasters coach David James said, "I don't remember a lot of chances to put the game to bed. The draw against Mumbai felt like a defeat. Today, they scored in the 84th minute so there was a lot longer to go."
"I don't think we had a lot of chances to put the game to bed. Frustration is that having seen the CK (Vineeth) penalty incident is a penalty. The penalty was a key moment in the match, a break we did not get."
On Kaludjerovic's equaliser, James opined, "Sandesh (Jhingan) going down made it a problem because he was not in a position to head in a clearance. The opposition loves playing here as well. The two teams have gone away with a point from losing positions."
"If Sandesh goes down, the physio has to come on and Sandesh has to go off during the corner. It is unfortunate he ended up in that position."
On asked if the international break in between was a problem for him, the Englishman replied, "It is the first time that ISL had a break for international duty. The players had to come back with pretty much no rest. Halicharan (Narzary) looked leggy, Sandesh showed fatigue in the second half. It is frustrating."
The coach heaped praise on goal scorer CK Vineeth who was handed his maiden start of the season. He said, "CK (Vineeth) has been training like the guy who wants to start football games. He scored a goal and I am not surprised by it. He has done so well in training at the beginning of the season. He deserved to start today. If you train well, you stand a chance to start. It has nothing to do with Matej (Poplatnik)."
Only three overseas players were named in Kerala starting XI. This was the third consecutive match where James decided not to fulfill the five foreigners quota in the starting lineup.
On fielding just three foreigners, James suggested, "It is not about foreign players or not. There were only two changes from the last game. Dheeraj missed a bit of training. It is nothing to do with being Indian or foreign."