Indian Super League
ISL 2018-19: John Gregory 'delighted' with Chennaiyin's performance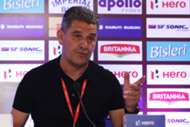 Chennaiyin FC head coach John Gregory was pleased with his team's performance in the goalless draw against Delhi Dynamos on Tuesday. 
Despite creating plenty of chances throughout the match, a heroic performance under the bar from Delhi Dynamos goalkeeper Francisco Dorronsoro denied the defending champions a goal. 
"We should have won the game quite comfortably. If we had come off winning 3-0, I don't think Delhi could have complained about it. We had really good goal-scoring opportunities which we worked hard to create and we didn't take those chances," Gregory said after the match. 
"We have had a little bit of a problem at the other end of the pitch but tonight we were defensively solid considering we got Calderon playing a slightly different position, Francis Fernandes playing at right back which is not his favourite position. The second half was one-way traffic, we dominated the second half.
"It tells you a story when their goalkeeper won the man of the match. He kept Delhi in the match."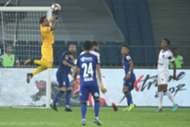 Last season's winners ended their three-match losing streak by earning a point today. Only a brilliant goalkeeping performance prevented Gregory's men from making it three. 
"We more than got it (our title defence) started today. Considering that we have had three defeats, there is a little bit of a lack of confidence amongst the players. They don't want to be in this position, they are used to being at the other end of the table. They are used to winning matches and going home with three points.
"I am absolutely delighted with the way that they performed. The efforts they put in in the three defeats is tremendous. I didn't think Delhi could stay with us in the last 20 minutes, there was only one team going to win it."
Chennaiyin will face ATK in their next Indian Super League (ISL) match on Friday. Taking a dig at the fixture schedule this season, the coach said, "We are in good shape going into Friday's game against ATK. I think they tried to get us a match tomorrow but we are going to play on Friday instead.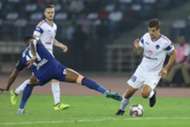 "I think Delhi played three games in nine days? Horrendous schedule, I think it probably told a little bit on Delhi in the last 15-20 minutes."
Having conceded eight goals in their last three matches, a clean sheet on the night came as a welcome relief for John Gregory. 
"Clean sheets are always welcome. Coaches love them, fans probably don't. TV viewers probably didn't enjoy the game as there were no goals. We're delighted to have kept a clean sheet.
"We were hard to score a goal against last season. We didn't give goals to the opposition if you scored a goal against us, you had to work bloody hard and it had to be something special to beat us. We got eight clean sheets last season and hopefully, this is the start of another eight."
The coach said he brought on Jeje Lalpekhlua on for the final minutes in hope of a late goal and also asserted that his team are firmly in the race for the playoffs. 
"Five minutes for Jeje is not long enough. I just wanted him to go on. He is the sort of person who can suddenly nick you a goal. It was almost like my last throw of the dice. 
"You can finish fourth and still be champions. After that performance, I believe in us even more."