Indian Super League
ISL 2017: FC Pune City prey on NorthEast United's lack of quality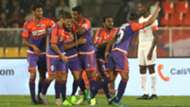 If Delhi Dynamos feel that they have had the worst results in this edition of the Indian Super League (ISL), they have a strong competitor in NorthEast United.
On Saturday evening, it was a clash of two sides who have never made it into the ISL play-offs ever. While NorthEast created several chances to score, it was the home team which finished their opportunities. The end result, 5-0 in favour of Pune, only highlighted the progress they made this season while it wouldn't be wrong to state that NorthEast United continue to be perennial underachievers.
One of the players retained by the north-eastern side was T.P.Rehenesh. The goalkeeper had an awful performance as he returned in between the sticks following his suspension. He committed a horrendous error to leak in the third goal. For those following Indian football closely, this isn't anything new as Rehenesh is known to commit such errors. Last season for East Bengal, Rehenesh let in a similar goal against Chennai City which ultimately jeopardised their title bid. 
While one may question the manner in which the club recruits, the larger problem is whether the club's management is content with just participating in the ISL or do they harbour any ambitions to make it into the top four at all? The no-relegation rule seems to have allowed certain teams to just make up the numbers in the ISL, something which the league needs to address. This allows teams to be sub-standard and ends up bringing down the quality of the league. 
Joao de Deus' side do create goal scoring opportunities but their strikers' failure to apply the finishing touch has come to hurt them big time. It wasn't that Pune had an excellent game as they kept giving away the ball to the opposition. However, they couldn't capitalize.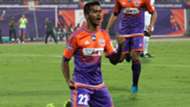 This was best illustrated when Seminlen Doungel was through on goal but he ended up not even testing goalkeeper Vishal Kaith. The same was the case with Marcinho, who though has impressed in midfield, hasn't been able to find the back of the net.
Rowllin Borges hasn't been at his best since the injury he picked during the pre-season and that was evident in how he struggled against Adil Khan and Marcos Tebar in midfield.
Not only their foreign set of players but their Indian contingent too have failed to inspire. Their failure to sign Emiliano Alfaro has come back to haunt them as they genuinely do not have a strong number nine.
NorthEast United once again look set to miss out on the play-offs, another season of disappointment for their fans at a time when I-League teams from the region have excelled. It isn't surprising to see more fans at I-League teams' venues than NorthEast United lately, a club which has failed to live up to the expectations of their fans.
Pune made the most of the counterattacks and their failure to keep a check on Marcelinho came back to haunt them. The Brazilian looked unstoppable every time he went forward as NorthEast just couldn't keep a check on his runs.
While Pune City have made important strides after three years of disappointment, NorthEast United continue to struggle and be in a rut.