ISL 2017 Draft LIVE: Complete list of players signed
Last Updated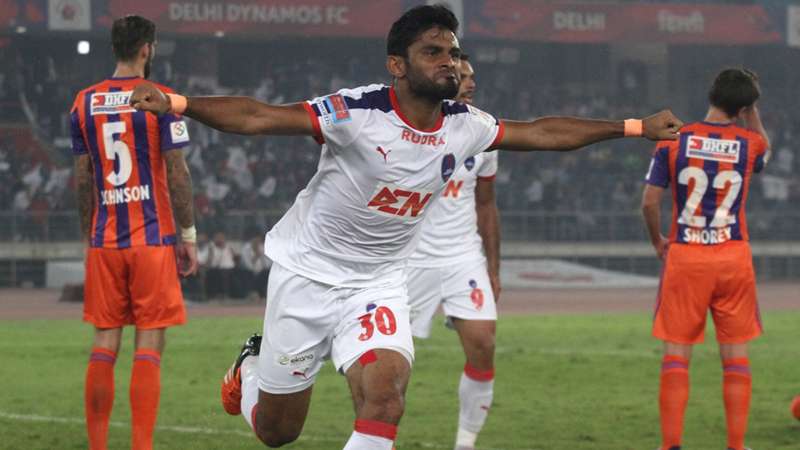 The Indian Super League 2017 Indian player draft is underway in Mumbai today. A total of 15 rounds will take place in the draft process from where the 10 teams will build their Indian contingent. Teams have a total salary cap of ₹18 crores, out of which ₹12.5 crores reserved for foreigners. A squad can comprise of maximum 25 players (max. 18 Indians).
Two new teams have been added to the ISL roster this time, Bengaluru FC and Jamshedpur FC owned by the Tata group.
Except for Delhi Dynamos and Jamshedpur FC every team had at least 2 players, which meant that these two sides started first in the auction.
Jamshedpur got things rolling by snapping up Anas Edathodika, one of the costliest players in the draft, for a whopping ₹1.1 crores. They also picked up Subrata Paul. We've also seen Eugeneson Lyngdoh being signed by Atletico de Kolkata for a similar amount as that of Anas.
Jamshedpur FC
| | | | |
| --- | --- | --- | --- |
| Round | Player | Price | Position |
| 1 | Anas Edathodika | ₹1.1 Crores | Defender |
| 2 | Subrata Paul | ₹87 lakhs | Goalkeeper |
| 3 | Mehtab Hossain | ₹50 lakhs | Midfielder |
| 4 | Souvik Chakrabarti | ₹45 lakhs | Midfielder |
| 5 | Robin Gurung | ₹31 lakhs | Defender |
| 6 | Bikash Jairu | ₹ 55 lakhs | Midfielder |
| 7 | Jerry Mawihmingthanga | ₹15 lakhs | Midfielder |
| 8 | Shouvik Ghosh | ₹ 18 lakhs | Defender |
| 9 | Sairuat Kima | ₹10 lakhs | Defender |
| 10 | Sanjiban Ghosh | ₹8 lakhs | Goalkeeper |
| 11 | Farukh Chowdhary | ₹ 7 lakhs | Forward |
| 12 | Sumeet Passi | ₹ 15 lakhs | Forward |
| 13 | Yumnam Raju | ₹ 12 lakhs | Defender |
| 14 | Ashim Biswas | ₹10 lakhs | Forward |
| 15 | Siddharth Singh | ₹ 5 lakhs | Forward |
Delhi Dynamos
| | | | |
| --- | --- | --- | --- |
| Round | Player | Price | Position |
| 1 | Albino Gomes | ₹50 lakhs | Goalkeeper |
| 2 | Pritam Kotal | ₹75 lakhs | Defender |
| 3 | Lallianzuala Chhangte | ₹15 lakhs | Midfielder |
| 4 | Lalhmangaihsanga 'Sena' Ralte | ₹27 lakhs | Defender |
| 5 | Seityasen Singh | ₹ 50 lakhs | Midfielder |
| 6 | Pratik Chowdhury | ₹ 30 lakhs | Defender |
| 7 | Vinit Rai | ₹ 12 lakhs | Midfielder |
| 8 | Romeo Fernandes | ₹ 50 lakhs | Midfielder |
| 9 | David Ngaihte | ₹ 12 lakhs | Midfielder |
| 10 | Sukhadev Patil | ₹ 10 lakhs | Goalkeeper |
| 11 | Sajit Dhot | ₹10 lakhs | Defender |
| 12 | Rowilson Rodrigues | ₹ 20 lakhs | Midfielder |
| 13 | Munmun Lugun | ₹ 10 lakhs | Defender |
| 14 | Arnab Das Sharma | ₹ 12 lakhs | Goalkeeper |
| 15 | Simranjeet Singh | ₹ 8 lakhs | Midfielder |
Kerala Blasters
| | | | |
| --- | --- | --- | --- |
| Round | Player | Price | Position |
| | CK Vineeth | N/A | Forward |
| | Sandesh Jhingan | N/A | Defender |
| | Prashanth Karuthadathkuni | N/A | Forward |
| 3 | Rino Anto | ₹63 lakhs | Defender |
| 4 | Lalruatthara | ₹25 lakhs | Defender |
| 5 | Milan Singh | ₹ 45 lakhs | Midfielder |
| 6 | Arata Izumi | ₹40 lakhs | Midfielder |
| 7 | Subhashish Roy Chowdhury | ₹ 37 lakhs | Goalkeeper |
| 8 | Jackichand Singh | ₹ 55 lakhs | Midfielder |
| 9 | Siam Hangal | ₹ 31 lakhs | Midfielder |
| 10 | Lalthakima | ₹ 10 lakhs | Defender |
| 11 | Pritam Kumar Singh | | Defender |
| 12 | Samuel Shadap | ₹ 10 lakhs | Defender |
| 13 | Loken Meitei | ₹ 6 lakhs | Midfielder |
| 14 | Karan Sawhney | ₹ 8 lakhs | Forward |
| 15 | Ajith Sivan | ₹6 lakhs | Midfielder |
NorthEast United FC
| | | | |
| --- | --- | --- | --- |
| Round | Player | Price | Position |
| | Rowllin Borges | N/A | Midfielder |
| | TP Rehenesh | N/A | Goalkeeper |
| 3 | Halicharan Narzary | ₹45 lakhs | Forward |
| 4 | Nirmal Chettri | ₹35 lakhs | Defender |
| 5 | Lalrindika Ralte | ₹ 50 lakhs | Midfielder |
| 6 | Robert Lalthlamuana | ₹ 25 lakhs | Defender |
| 7 | Seminlen Doungel | ₹ 37.5 lakhs | Forward |
| 8 | Reagan Singh | ₹ 25 lakhs | Defender |
| 9 | Ravi Kumar | ₹ 15 lakhs | Goalkeeper |
| 10 | Gursimrat Gill | ₹ 6 lakhs | Defender |
| 11 | Malemnganba Meitei | ₹ 16 lakhs | Defender |
| 12 | Abdul Hakku | ₹ 12 lakhs | Defender |
| 13 | Lalrempuia Fanai | ₹ 8 lakhs | Midfielder |
| 14 | Sushil Meitei | ₹6 lakhs | Midfielder |
| 15 | Gurpreet Singh | ₹ 7 lakhs | Goalkeeper |
​ FC Goa
| | | | |
| --- | --- | --- | --- |
| Round | Player | Price | Position |
| | Laxmikant Kattimani | N/A | Goalkeeper |
| | Mandar Rao Dessai | N/A | Midfielder |
| 3 | Narayan Das | ₹58 lakhs | Defender |
| 4 | Pronay Halder | ₹58 lakhs | Midfielder |
| 5 | Chinglensana Singh Konsham | ₹ 19 lakhs | Defender |
| 6 | Brandon Fernandes | ₹ 27.5 | Midfielder |
| 7 | Seriton Fernandes | ₹ 15 lakhs | Midfielder |
| 8 | Pratesh Shirodkar | ₹ 24 lakhs | Midfielder |
| 9 | Naveen Kumar | ₹ 6 lakhs | Goalkeeper |
| 10 | Mohamed Ali | ₹ 1 lakhs | Defender |
| 11 | Jovel Martins | | Midfielder |
| 12 | Amey Ranawade | ₹6 lakhs | Defender |
| 13 | Anthony D'Souza | ₹ 16 lakhs | Midfielder |
| 14 | Mohammad Yasir | ₹ 7 lakhs | Defender |
| 15 | Bruno Colaco | ₹ 10 lakhs | Goalkeeper |
Bengaluru FC
| | | | |
| --- | --- | --- | --- |
| Round | Player | Price | Position |
| | Sunil Chhetri | N/A | Forward |
| | Udanta Singh | N/A | Forward |
| | Nishu Kumar | N/A | Defender |
| | Malsawmzuala | N/A | MIdfielder |
| 3 | Lalthuammawia Ralte | ₹37 lakhs | Goalkeeper |
| 4 | Rahul Bheke | ₹43 lakhs | Defender |
| 5 | Harmanjot Khabra | ₹ 53 lakhs | Midfielder |
| 6 | Subhashish Bose | ₹ 17 lakhs | Defender |
| 7 | Alwyn George | ₹15 lakhs | Midfielder |
| 8 | Lenny Rodrigues | ₹60 lakhs | Midfielder |
| 9 | Zohmingliana Ralte | ₹25 lakhs | Defender |
| 10 | Thongkosiem Haokip | ₹30 lakhs | Forward |
| 11 | Abhra Mondal | ₹10 lakhs | Goalkeeper |
| 12 | Boithang Haokip | ₹ 20 lakhs | Midfielder |
| 13 | Coliln Abranches | ₹ 13 lakhs | Defender |
| 14 | Joyner Lourenco | ₹8 lakhs | Defender |
| 15 | Calvin Abhishek | ₹ 4 lakhs | Goalkeeper |
Atletico de Kolkata
| | | | |
| --- | --- | --- | --- |
| Round | Player | Price | Position |
| | Debjit Majumdar | N/A | Goalkeeper |
| | Prabir Das | N/A | Midfielder |
| 3 | Eugeneson Lyngdoh | ₹1.1 cr | Midfielder |
| 4 | Jayesh Rane | ₹49 lakhs | Forward |
| 5 | Keegan Perreira | ₹ 28 lakhs | Defender |
| 6 | Shankar Sampingiraj | ₹ 25 lakhs | Midfielder |
| 7 | Anwar Ali | ₹35 lakhs | Defender |
| 8 | Hitesh Sharma | ₹10 lakhs | Forward |
| 9 | Robin Singh | ₹65 lakhs | Forward |
| 10 | Rupert Nongrum | ₹17 lakhs | Midfielder |
| 11 | Ashutosh Mehta | ₹45 lakhs | Defender |
| 12 | Augustin Fernandes | ₹ 30 lakhs | Defender |
| 13 | Ronald Singh | ₹ 10 lakhs | Forward |
| 14 | Kunzang Bhutia | ₹ 10 lakhs | Goalkeeper |
| 15 | Bipin Singh | | Midfielder |
Chennaiyin FC
| | | | |
| --- | --- | --- | --- |
| Round | Player | Price | Position |
| | Jeje Lalpekhlua | N/A | Forward |
| | Karanjit Singh | N/A | Goalkeeper |
| | Jerry Lalrinzuala | N/A | Defender |
| | Anirudh Thapa | N/A | Midfielder |
| 4 | Thoi Singh | ₹57 lakhs | Midfielder |
| 5 | Bikramjit Singh | ₹ 53 lakhs | Midfielder |
| 6 | Dhanachandra Singh | ₹ 50 lakhs | Defender |
| 7 | Germanpreet Singh | ₹ 12 lakhs | Midfielder |
| 8 | Fulganco Cardozo | ₹30 lakhs | Defender |
| 9 | Pawan Kumar | ₹25 lakhs | Goalkeeper |
| 10 | Keenan Almeida | ₹20 lakhs | Defender |
| 11 | Mohammed Rafi | ₹30 lakhs | Forward |
| 12 | Dhanapal Ganesh | ₹ 44 lakhs | Midfielder |
| 13 | Sanjay Balmuchu | ₹ 8 lakhs | Defender |
| 14 | Francisco Fernandes | ₹ 20 lakhs | Midfielder |
| 15 | Shahin Lal Meloly | ₹8 lakhs | Goalkeeper |
Mumbai City FC
| | | | |
| --- | --- | --- | --- |
| Round | Player | Price | Position |
| | Amrinder Singh | N/A | Goalkeeper |
| | Sehnaj Singh | N/A | Midfielder |
| | Rakesh Oram | N/A | Midfielder |
| 3 | Balwant Singh | ₹65 lakhs | Forward |
| 4 | Arindam Bhattacharya | ₹64 lakhs | Goalkeeper |
| 5 | Raju Gaikwad | ₹47 lakhs | Defender |
| 6 | Abinash Ruidas | ₹ 18 lakhs | Midfielder |
| 7 | Sahil Tavora | ₹ 6 lakhs | Midfielder |
| 8 | Aiborlang Khongjee | ₹35 lakhs | Defender |
| 9 | Sanju Pradhan | ₹30 lakhs | Midfielder |
| 10 | Zakeer Mundampara | ₹18 lakhs | Midfielder |
| 11 | Biswajit Saha | ₹6 lakhs | Defender |
| 12 | Pranjal Bhumij | ₹ 6 lakhs | Forward |
| 13 | Mehrajuddin Wadoo | ₹43 lakhs | Defender |
| 14 | Lalchhawnkima | ₹ 20 lakhs | Defender |
| 15 | Kunal Sawant | ₹15 lakhs | Goalkeeper |
FC Pune City
| | | | |
| --- | --- | --- | --- |
| Round | Player | Price | Position |
| | Vishal Kaith | N/A | Goalkeeper |
| | Ashique Kuruniyan | N/A | Midfielder |
| 2 | Adil Khan | ₹32 lakhs | Defender |
| 3 | Kean Lewis | ₹40 lakhs | Forward |
| 4 | Lalchhuanmawia Fanai | ₹45 lakhs | Defender |
| 5 | Jewel Raja | ₹ 26 lakhs | Midfielder |
| 6 | Nim Dorjee Tamang | ₹ 15 lakhs | Defender |
| 7 | Isaac Vanmalsawma | ₹ 15 lakhs | Midfielder |
| 8 | Harpreet Singh | ₹6 lakhs | Defender |
| 9 | Wayne Vaz | ₹8 lakhs | Defender |
| 10 | Kamaljit Singh | ₹ lakhs | Defender |
| 11 | Baljit Sahni | ₹37 lakhs | Forward |
| 12 | Rohit Kumar | | Midfielder |
| 13 | Ajay Singh | ₹ 8 lakhs | Forward |
| 14 | Gurtej Singh | ₹ 12 lakhs | Defender |
| 15 | Pawan Kumar | ₹25 lakhs | Defender |