Indian Super League
ISL 2017: We will play positive football in Kochi, says Bengaluru FC assistant coach Naushad Moosa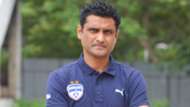 Bengaluru FC take on South Indian rivals Kerala Blasters in what is set to be a cracker of a match on New Year's Eve at the Jawaharlal Nehru Stadium, Kochi.
Ahead of the crucial encounter against the Blasters, Bengaluru assistant coach Naushad Moosa interacted with the press in the absence of coach Albert Roca, who was not keeping well.
The Blues started their debut season in Indian Super League (ISL) with a bang, winning three out of their first four matches. Unfortunately, they lost the last two matches at home against Chennaiyin FC and Jamshedpur FC and are now placed third in the league table.
On their run in the league so far, Moosa said, "We started our season early compared to other teams in ISL. We had AFC Cup commitments so I guess we were a little more prepared which helped in the initial stage of the tournament. The other teams are now settling down, they are gelling well and that is what is making it difficult for us. We have won our last three away games. We are playing positive football. We will be playing positive football tomorrow, we won't be defensive. We have come here for points and hopefully, we will get some."
Albert Roca's right-hand man Carles Cuadrat stepped down from the assistant coach's role on Friday, citing health issues. The club replaced Cuadrat with former FC Barcelona youth coach Marc Huguet.
On asked about Cuadrat's resignation and Huguet's appointment, Moosa opined, "It is too early to speak about Marc. He has not arrived yet. Roca would have been the best person to answer this question since he had worked with Marc. It would be difficult for me to say anything as I have never met him."
Kerala have earned a reputation for being a defensive unit. The team under Rene Muelensteen have scored only five goals so far in the season which has raised serious questions about the side's attacking prowess.
When queried about the Kerala Blasters side, the Bengaluru assistant coach said, "Since the last two matches, Kerala are playing attacking football. So it won't be easy for us to defend against them. The team is settling down and gelling well. I feel it's not going to be easy tomorrow with the crowd and the way Blasters are playing at the moment."
Sunil Chhetri has been an inspirational character for Bengaluru FC both on and off the field. Nearing the twilight of his career, he is still among the top Indian goal scorers in ISL. On the skipper's role in this side, Moosa said, "Sunil is a great leader. He always sets examples. The hard work he still puts in is incredible. Even the foreign players respect him a lot. The way he grinds himself, he is an example. The junior players and the reserve team players look up to him."