Indian Super League
ISL 2017-18: Steve Coppell - It's a shame that what started so brightly ended so tragically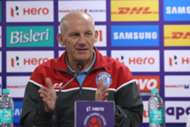 Jamshedpur FC went down 0-3 against FC Goa in what was their final match of the Indian Super League (ISL) 2017/18 season. Ferran Corominas scored a brace and Manuel Lanzarote found the back of the net to send Goa to the playoffs.
The match started on a negative note for the home side when goalkeeper Subrata Paul was given the marching order for handling the ball outside the penalty box. The referee did not hesitate to flash the red card and reduce Jamshedpur to ten men.
Speaking about Subrata's red card and how it affected the team's game plan, coach Steve Coppell said, "It makes a huge difference when a goalkeeper gets sent off after seven or eight minutes and you have to change the whole emphasis of your team. Nothing to do with defensive lapses. It had everything to do with 10 men playing against 11 men. For us to overcome from losing the goalkeeper was a massively difficult task. Given the quality of their players for us to stick around for so long was a great testament to the determination and willpower of my players."
The former Crystal Palace manager mentioned that his side started the game on a positive note but his plans got completely disrupted after Paul's sending off. He said, "We started the match well. We had a game plan to limit their space. We tried to stop them from playing out the goalkeeper but your whole game plan is disrupted after Subrata was sent off at eight and half minutes, everything falls apart."
The Jamshedpur gaffer continued, "Even at halftime, I thought we had a chance. But it was very important in the second half we keep the score at 1-0 for the first 20 minutes. But they scored again. I don't know if it was offside. My defenders thought it was offside. It's not going to change now. 2-0 down against a top quality opposition it was impossible. It's a shame that what started so brightly ended so tragically. We didn't get a chance to go at them and we wanted to go at them."
Surprisingly referee Venkatesh Ramachandran, who was heavily for his controversial decisions in the first leg of FC Goa vs Jamshedpur FC clash, was once again appointed as the official of today's game. 
Steve Coppell was thoroughly disappointed with this decision and openly spoke about the issue. He said, "I believe it was the same referee who officiated the first Goa game which I felt difficult to understand. There were some very dubious decisions in the first leg. Very dodgy penalty, possible offside. Appointing the same referee, I must admit I wasn't very happy with that. Subrata's sending off was right and their goalkeeper sending off was also right. But just from a diplomatic point of view, it should have been given to another official."