Indian Super League
ISL 2017-2018: Jamshedpur FC have laid down a solid foundation, says Steve Coppell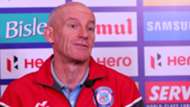 On Sunday evening, Jamshedpur FC lock horns with Goa in a crucial clash which will decide which of the two sides will end up in the top four and clinch their berth in the playoffs alongside Bengaluru FC, FC Pune City and Chennaiyin FC.
Speaking ahead of the all-important clash, head coach Steve Coppell stated he's glad that his side needs full points to qualify, which keeps them focused and clear.
"It will be a do or die battle. In a strange sort of way, I'm happy that we have to win in order to go through as it brings no doubt in our mind. If we would have been able to qualify with a draw then all of a sudden you have a bit of mixed-up human nature as you try to protect what you have; I don't think that suits us,'' he explained.
Both outfits will be desperate for the win and Coppell believes the Men of Steel need to be more productive in front of the goal. Also, the Englishman revealed that the hosts are practising to improve their set plays.
''We obviously need to be better in front of the goal. That's something we have probably needed all season. We need more potential and firepower in front of the goal. We will have to try and correct this tomorrow. We haven't scored enough from corners and free-kick deliveries. We have a chance tomorrow; we are working hard on this and we hope we can get returns. But there isn't any guarantee in football,'' expressed the 62-year-old who took Kerala Blasters to the finale in the 2016-17 season.
Coppell argued that though FC Goa is a brilliant attacking team,he has plans to trouble Goa's defence which has been their weak link this year.
''FC Goa are the most attractive team going forward in the league. They have some terrific players; they are a team made to go forward. The criticism about Goa has been about their defence. So it is fairly well defined what we have to do tomorrow - we have to stop their goal scorers and defend really well and then, also put their defence under pressure,'' he commented.
Regardless of the result at the full-time whistle at home soil on the weekend, the Jamshedpur project has been a success, Coppell claims. ''For a new team, created from nothing, in a very short space of time, to compete the way we have done regardless of whatever happens tomorrow, it will be a solid foundation for the next couple of years. Everyone at the club would have learnt so much about how to run an ISL football club. Whatever happens, there are so many positives from this season.

"The crowd here, nobody knew what to expect but for the players to look out and see a sea of red shirts, it's a lovely atmosphere. The crowd has been great. I would like to thank them for turning up and shouting and supporting us for the matches,'' the former Crystal Palace manager signed off.