Indian Super League
ISL 2017-18: FC Goa coach Sergio Lobera ready to break hoodoo against ATK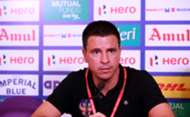 FC Goa have not beaten ATK in Indian Super League (ISL) but Sergio Lobera's men must get the better of the Kolkata based side when they play hosts on Wednesday. Coach Sergio Lobera did not seem perturbed by the statistic and seemed confident of getting three points.
"The records are always there to be broken. I think what is in the past is past and what will happen tomorrow has nothing to do with the past. It wouldn't have mattered if we had won all the matches against ATK. I am not nervous as we haven't won against them. Tomorrow (Wednesday) is a new scenario, new teams, new season and what happened in the past will not affect what will happen tomorrow," said Lobera.
The Spanish coach praised the depth in his squad as the replacements for the injured players stepped up against FC Pune City.
"What I like about the squad is that we have the capability to replace anyone who is missing. For example, Brandon (Fernandes) and Bruno (Pinheiro) were missing but we found replacements from the bench who came on and did a good job for us. We have many options to choose from, and in the end, it is always the team that rises above the individual.
"I think if we had lost faith in ourselves we could not have won 4-0 against Pune. We believe in ourselves and we are very close to it (play-offs) and I hope that in five days we will be in the position where the fans of Goa deserve to be. We delivered when it mattered the most. The team showed what they were in the past and what they can be in the future. All of the players are important, and especially Pronay (Halder) had a great game," said Lobera.
Lobera once again stressed on his philosophy of outscoring his opponents rather than going for a clean sheet. 
"My words were taken out of context and I repeat what I said in the press conference. The most important thing is the three points. If it had been 6-1 I would have been more content. Why? Because 6-1 is +5 whereas 4-0 is only +4. Right now we have +7 as our goal difference. If we are tied with Chennai on points, then the goals that we score against them and the ones we concede against them will be the deciding factor behind who goes up and who doesn't. Right now we are better than Chennai, but with 1-0 score-line we would not have been. But the whole world would have been happy just because we had a clean sheet," reasoned Lobera.
It remains an uphill task for Goa to qualify and they must win both their games to reach 30 points which will ensure their qualification. But the former head coach of Las Palmas is confident that they will complete the task at hand with proficiency after a spirited display against Pune.
"One game finishes and the next game is always the most important one. We are in that part of the season where all games are important. We have fought a lot to reach this place and now it depends on us completely. We have a lot of excitement and still believe that we can finish off the work that we started a few months ago. Hopefully when the next two games are done, our fans will be happy as we will then be competing in the semi-finals. 
"I think what changed is our effectiveness in front of goal as we have been creating chances in other matches as well. But we made sure that those chances materialized and that changed the result. The team demonstrated personality and we were in control throughout the game, which helped us achieve a positive result.," concluded Lobera.