Indian Super League
ISL 2017-18: Chennaiyin FC assistant coach Sabir Pasha - 'We are focused on all three points'
Ashwin Muralidharan (@AshwinMNair10)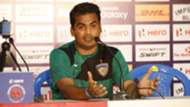 Delhi Dynamos are going through a six-game losing streak in the Indian Super League (ISL) but Chennaiyin FC, their hosts on Sunday, will not take them lightly, according to assistant coach Syed Sabir Pasha. 
The former India international, deputising for head coach John Gregory who has been banned for three games, said, "We know how Delhi Dynamos are. They might be bottom of the table (but it) does not matter.
"They are a good side and we can't be complacent against any side in the league. It is going to be a tough game. They will come hard at us and we have to play much better than how we have played so far." 
The 45-year-old went on to state that his team is focused on Sunday's game despite the three-game ban handed out to Head Coach John Gregory for offensive remarks to the referee after Chennaiyin's previous game against Jamshedpur FC, which they won 1-0. 
"Gregory's absence is clearly disappointing. But the team is focused on the three points (on offer against Delhi Dynamos)."
Pasha also stated that the absence of captain Henrique Sereno due to an accumulation of yellow cards will be a big blow to the team, but it is an eventuality that they are prepared for. 
"Sereno will miss the game. It is going to tough to replace him. (But) John has worked on that and we are prepared for it and we will have somebody stepping in for him."
When queried as to whether Sereno's absence will unsettle a defence which has been solid so far, conceding just eight goals in eight games, Pasha highlighted the work of his team as a whole for their solid defensive record. 
"When you lose the ball, you defend as a team. So, everybody is responsible for defence. It is not just Sereno (who is). We have played well as a unit in defence so far.
"I think tomorrow will be a test for us a player like Sereno will be absent. And we expect Delhi to go all out at us. We are planned for the eventuality." 
Pasha also revealed that Chennaiyin FC squad has a clean bill of health, having had nine days to rest after their last game. 
"The break has been good for us after journeying to Jamshedpur and we have utilised the break very well. We have been able to rest all our key players. Our squad is completely fit."