Indian Super League
ISL 2017-18: Albert Roca - Not the best way to prepare for a game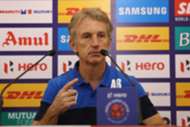 Barely 70 hours after their hard-fought win over ATK, Bengaluru FC take the field in the 2017-18 Indian Super League (ISL) yet again, this time a thousand miles away over at the Jawaharlal Nehru Stadium in Chennai on Tuesday.
The stakes are as high as ever as it is a top-of-the-table clash at Chennaiyin FC's backyard. Bengaluru FC head coach Albert Roca did not hide his wish for there to be a longer turnaround time between the two games.
"It is a long travel to Kolkata (from Bengaluru) and now, here. It is not the best way to prepare for a game. There should be at least 4 days before another game. We have another game against Goa coming up. For all the teams, there should be a bigger break but we have to accept the calendar. We are also playing the AFC Cup. We can't complain too much," said the Spaniard.
A matter of redemption also must have crossed the former FC Barcelona assistant manager's mind, after they got beat 1-2 at home by the Machans in the game earlier this season. "The fact that we lost against them was not a disaster."
 
"They are a good team. So, you can't win all the games given that how tough some of the teams are. Chennaiyin are a tough team. It won't affect tomorrow's game. We have to go into the pitch with a more clear idea to achieve another result," he said.
Roca still remained peevish over Rahul Bheke's red card in the last match when he accumulated two yellow cards within six minutes in the second half. The 55-year-old opined, "To be a referee is not easy. If you saw the game, Bheke did not deserve the red card and he clearly touched the ball."
 
He added, "It could be a difficult moment for us. I was not happy with the decision. To make a mistake is human but you need to improve. If you are not professional, you don't deserve to be a referee. It is not easy. The VAR (Video Assistant Referee) is not here but is now coming in every top league."
The ISL newbies lead the table with 27 points after 13 games. Roca however, is not counting his chicken before they hatch. "Let's be honest. The league is not finished and we can't say who are the best teams. There is a playoff as well. The important thing is to know that nothing is done. We have a lot of work to do yet. To be in the first position is advantage regards to qualifying for the playoffs," maintained Roca in humility.
He drew an example from the last game when ATK scored an own goal early on but according to Roca, his side perpetuated composure to help them see through the entire ninety minutes without getting too carried away.
"I want my players to do their best every moment. It is impossible to play the best in all games. Even then, we are winning games. The team was relaxed after the own goal against ATK and we didn't push much. Sometimes, it goes against you. We were a little bit better in the second half. It is difficult to get control of the situation sometimes."
Lastly, Roca did not worry too much about the lack of scoring from other members of the team apart from Miku and Sunil Chhetri. The duo have netted in three-fourths of the 24 goals scored by the team so far.
"It does not matter who scores or not. It is quite normal for strikers to score the majority of the goals. It is the case with Goa and Chennaiyin. Chhetri is very important to our team. He could be a legend and he is humble and is always trying to do his best," quipped Roca.