Indian Super League
ISL 2017-18: Albert Roca on southern derby win - It is no more special than any other win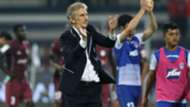 Bengaluru FC coach Albert Roca saw his side finish their league engagements with a 2-0 win over Kerala Blasters in the southern derby on Thursday.
The hosts finished on the top of the Indian Super League (ISL) with 40 points from their 18 matches but now will have their task cut out. With no other league-stage leaders going on to win the title in the previous three seasons, the pressure will be very much on Bengaluru to become the first team to do so.
However, Roca was confident in his side's chances. "The pressure is for us. Now it is time to be humble. I think this kind of win helps. It is time to wait, we don't know our opponent in the semi-final," he said.
His skipper and talisman Sunil Chhetri endured a frustrating evening and was replaced towards the dying stages. Roca however, refused to read too much into his performance.
"I am happy with the Sunil, he has played more than 2000 minutes right now. He is always doing his best. He likes to play all the minutes. We scored in the last minutes and I am happy with that," Roca said about his skipper.
The Spanish tactician refused to get carried away by a strong end to the league campaign by his side.
"I remember we played a very good game against Mumbai City FC and Delhi Dynamos. Then the things changed and we had some losses. I never felt that I was superior. That is not my mentality. I push my team to be better every weekend," he explained.
"We have the option to be in the final. Let us try, with the right mentality," Roca added.
The Bengaluru coach refused to pick a desired opponent Jamshedpur FC and FC Goa for his side's semi-final clash.
"They are two completely different teams. One plays a very English style. Goa has a lot of quality, they have the top scorer (Corominas) and have the best assist maker (Manuel Lanzarote).
Winning against a local derby rival in front of the home fans is always special but Roca refused to tag Thursday's win as one of his side's best in the season.
"I am happy to win so many games, in the second part of the season. But it is no more special than any other win in the beginning. Now I am sure that semi final is not going to be easy," he said before signing off.