Interview with: JSSL's Danelle Tan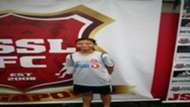 In this interview, Goal Singapore caught up with one of JSSL's top female players. Danelle Tan has been with JSSL since the age of five.
More recently she was selected to go abroad to train with the Arsenal Academy U15 Girls. Goal Singapore spoke to her to find out on her experience and more.
1) Firstly, how has JSSL helped in your development as a footballer?
I started in JSSL when I was pretty young and it has an excellent programme for female footballers in allowing us to develop. For example the programme allows us to train with an all-female team instead of with guys.
And so this helps as it doesn't demoralise you as compared to training with guys as we are weaker than males. Moreover in the social aspect it helps us too as we can easily make more friends when training with girls as there is a greater understanding.
2) You recently trained with Arsenal Academy U15 Girls through JSSL's partnership with the club. How was the experience like?
It was a fantastic experience. Training with a foreign team with players of high calibre, only makes you better.
In JSSL I train with guys now but over there I am training with female players who are highly talented and their speed of play and thought is really quick. It's a whole different level over there which forced me to adapt in a good way.
3) What were some of the tips you picked up during your stint in England?
I learned to think much quicker and this means starting to think even before I get the ball. In Singapore they teach you this but it's not as evident as in England. In Singapore you can get away with a slow thought process.
 However in England there is no chance of that happening because they press you quicker and the space is also tighter. Physically it's also challenging because the girls there are much bigger in size.
4) What are some of the challenges you face as a female footballer?
I think that women's football is always second best. Fewer resources are devoted to women's football compared to our male counterparts.
Also men's football has a professional league in Singapore while we vaguely do and so that reduces our chances of being a professional greatly.
5) What are your future plans with regards to football?
I am hoping to get a scholarship to America and get into a good school there because the future for aspiring female footballers there are better. Additionally it can provide me with the environment to succeed as a footballer too.