Intercontinental Cup
Intercontinental Cup: Stephen Constantine - I don't feel we should be begging people to watch their own National Team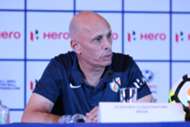 India booked its place in the final of the four-nation Intercontinental Cup with a 3-0 victory over Kenya at Mumbai on Monday.
Despite the comfortable margin of victory in the end, India head coach Stephen Constantine admitted that his side had been found wanting in the first-half.
"It was a hard fought win in the difficult conditions as the goal didn't move around. We didn't have a good (first) half as we didn't play our usual game. The win puts us in the final, which we wanted from the beginning," Constantine stated in the post-match press conference.
"We needed to get hold of the midfield, we were playing a bit too deep. The weather and the water didn't help. We controlled the ball and the pace in the second half," the gaffer added.
Constantine stated that India getting better control of the second-ball in the second-half had been the difference ultimately.
"We had lost our way a bit in regaining the second ball because we were too deep. The back four were okay but midfield four saw the second ball bouncing. We do live analysis and we showed them the clips. In the second half, we got much better and that's why we won the game," he explained.
The Englishman reserved special praise for the work-rate shown by the players on Monday at the Mumbai Football Arena.
"We've had some very good results in the year and half. Everyone who plays, gives their best. The work-rate today was phenomenal. We have three and half year of numbers of how high we play in terms of work-rate," Constantine said.
Skipper Sunil Chhetri's impassionate video plea to draw supporters for Indian football did its job as the venue was almost full with an official attendance of 8, 890. Constantine was delighted with the figures but stated that players should not have to plead to fill up the empty seats.
"I don't feel we should we begging people to watch their own National Team. The crowd today was terrific and this is what we expect. The things we achieved in three and half years, it was sad to see the last turn up. Today, the crowd more than made up for that," he explained.
The India head coach also had a message for the Indian government with regards to the side's participation in the Asian Games.
"If the government is listening, send us to the Asian games. We have 11 U-23 players and that is a U-23 tournament," Constantine quipped.
Central defender Sandesh Jhingan, who was substituted towards the dying minutes, said India needed to improve further in its preparations for the AFC Asian Cup.
"We are ready for Asian cup but we need to improve; be humble and keep working for it," he said. Jhingan also sounded optimistic with regards to his injury, saying: "The injury we need to examine. I have some swelling but I should be okay."