UEFA Champions League
Iniesta refuses to confirm Barcelona future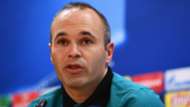 Barcelona legend Andres Iniesta declined to say whether he would continue at Camp Nou as he remains focused on overcoming the odds in the Champions League. 
The midfielder, 32, came up through the ranks at La Masia and has been a crucial part of the Catalans' incredible success story over the last decade. 
But his contract expires in June 2018 and when asked if he would end his career at his boyhood club, Iniesta preferred not to answer. 
Hazard ahead in Player of the Year race
"You have caught me out with that question right now," he told reporters ahead of Wednesday's crunch quarter-final return clash against Juventus. 
"Tomorrow we are putting everything on the line collectively and individually, and nothing has changed from what I said last time. 
"At the end of the season I will weigh up a lot of things and we will see. My hopes and wishes have not changed, but this is not the best time to be talking about it." 
Having gone down 3-0 to Juventus last week in Turin, Barcelona must repeat their comeback heroics against Paris Saint-Germain to keep alive their European hopes. 
According to Iniesta, the key for Barcelona wiil be scoring early and piling pressure on their opponents. 
"In a way there is a similarity there in the need to score goals and also give away few or no chances for the opponent," he considered. 
"That has to be our mentality and vision for the game. The earlier we can score the goals the better, but we will have to see how the game plays out. 
"We have to stay patient and be prepared to suffer, and above all we have to be ruthless in the chances we get and try not to panic if the goals do not arrive at the start. 
"We have to work hard throughout the game and keep [Juventus'] chances to a minimum."