Young Lions
Inexperience at the heart of Young Lions' troubles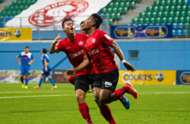 The Young Lions huffed and puffed trying to salvage whatever they could of a game that was slipping from their grasp. In the end it just wasn't enough as they collapsed dramatically against a more experienced and streetwise Home United side last night at the Bishan stadium.
In the end, the 4-1 scoreline did little to boost the confidence of the Young Lions and head coach Fandi Ahmad will definitely need to head back to the drawing board, to analyse where the team went wrong. The Young Lions have been under close scrutiny for some time with many believing that the whole concept should be scrapped. What was an idea to promote talented footballing youths has turned into the Young Lions being the whipping boys at times, of the SPL (Singapore Premier League). Critics add that there is no positive in this but will only shatter the confidence footballing aspirations of these young boys.
Watching the Young Lions play can be frustrating. At times one can be buoyed by their youthful exuberance but most times they are let down by their inexperience.  Make no mistake the Young Lions boast a talented squad of players who possess potential to go far in the sport but without proper guidance on the field they look like a bunch of lost schoolboys. One such talented player is Ikhsan Fandi. The forward was a livewire in the opening stages of the game as his clever movements and tricks had the Home United backline in a daze. But he slowly faded as the home side's defenders began to gang up on him. Ikhsan looked bereft of ideas like his head coach as he scanned the field looking for a senior figure to hold his hand.
Fandi junior's troubles are reflective of the central problem of the Young Lions; inexperience. This leads to poor decision making too from the players. When they are supposed to shoot they pass and when they are supposed to pass they shoot. There were however some positives as in the 1st half they managed to get an equaliser after going down showing good fight and containing the fierce onslaught from their opponents. But with the Young Lions you always have a sense that they were going to implode and they duly did, in the 2nd half conceding three goals. These youngsters lacked character and one can only imagine how much help they would have gotten if someone like Shahril Ishak or Juma'at Jantan had been playing for their team.
Indeed the future of the Young Lions will continue to draw fierce debate but for now they need to put this defeat behind them quickly. Coach Fandi's smokescreen in mentioning that the players were struggling with fitness after eight games in three weeks will benefit no one. But what will benefit them is a win in the next game and a little experience.