Indian Super League
Indian Super League: Ashley Westwood to join Atletico de Kolkata as Director of Football
Rahul Bali & Ashwin Muralidharan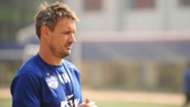 Atletico de Kolkata are set to sign former Bengaluru FC manager Ashley Westwood as their Director of Football ahead of the upcoming Indian Super League (ISL) season, Goal can confirm.
The Manchester United academy graduate has had prior experience in India, thanks to a highly successful stint as the manager of Bengaluru FC. 
He took charge of the Blues in 2013 following the inception of the club and led the team to two I-League titles in three years, apart from a Federation Cup in 2015, before leaving for Malaysian Super League outfit Penang FA. 
Jeje to sign lucrative Chennaiyin FC deal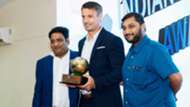 However, the Englishman's Malaysian adventure did not end well after a poor start to the 2017 season and he parted ways with Penang in March 2017 and has now opted to return to India. 
Atletico de Kolkata, the most successful club in ISL so far, will be hoping the 40-year-old replicates his success with Bengaluru FC, albeit in a different role. 
The Saurav Ganguly co-owned team are yet to appoint a successor to Jose Molina as head coach but with Westwood coming into the fold, the new manager can expect a helping hand from an able figure. 
Atletico de Kolkata have retained star goalkeeper Debjit Majumder and Prabir Das ahead of the player draft. 
The think tank of the team, boosted by the arrival of Westwood, will now be plotting the defence of the title which they have already won twice in just three years of the league's existence. 
Goal contacted Atletico de Kolkata CEO Subrata Talukdar but he refused to confirm or deny the development.