India U16
Indian Football: Newly appointed U-17 head coach Luis Norton de Matos - 'I'm not afraid with the quality of Indian players'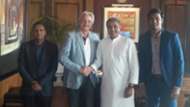 Former SL Benfica B coach Luis Norton de Matos, who has been appointed as the head coach of the India U-17 football team for the upcoming Federation de Internationale Football Association (FIFA) Under-17 World Cup, has a challenge on his hands and he knows it. 
In an exclusive chat with Goal, he listed out his objectives and philosophy while cutting a confident picture. "I think everybody expects a lot from this Under-17 World Cup and everybody knows that India must grow a lot to reach the top level in football. We are looking to do good work and surprise the fans. We would like to qualify for the group stages by securing at least four points from the group stage," Norton de Matos professed. 
The 63-year-old went on to stress the importance of thinking positively for the team to achieve its goals. "One thing I can promise is that we will think about winning only. We must not think about losing and even if we have very less percentage of chance on paper, we need to fight for that little amount. This is my mentality and hopefully, we can surprise a lot of teams. It is impossible to win or lose a game before playing and my philosophy is that there is always a possibility to win a game," said the Portuguese as he gave an insight on his thought process. 
Constantine right to retain India core?
Luis Norton de Matos, a SL Benfica youth product, has worked with several youngsters who have went on to be noticed on the biggest stage like Renato Sanches (Best young player of Euro 2016), Goncalo Guedes, Victor Lindelof and Bernardo Silva among others. When queried as to how he will adjust to the lower levels of quality that the Indian players might possess, Norton de Matos insisted that he was here to help them improve and that he trusted his methods to do that job. 
"In all my life, I have liked a challenge. I like the chance to do something positive and I'm not afraid with the quality of the Indian players because I trust a lot in my methods and expertise. We have eight months and I'm sure they will progress a lot. I have no pressure when it comes to this challenge," he said.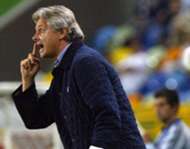 But he did sound out a warning with respect to undue expectations from the tournament. "Of course, I'm not selling any illusions here and say we're going to have a fantastic World Cup campaign. For me, I have to prepare the team for the first game in October. Victory in the first game is possible if everyone of us thinks positively. It is a big challenge for the fans, players and the whole country," Norton de Matos remarked. 
Eight players snubbed by Stephen Constantine
Further, the Portuguese coach chose to focus on the benefits of hosting the Under-17 World Cup while explaining that this was a chance for the game to grow in the country. "I think we have a world cup on our minds but this is something much more important than that. This can influence the future of the game in India. We have a youth World Cup and that is a start. Some of these U-17 players will go on to play for the senior team in the future," he explained.
"Plus, this tournament will captivate the billions of fans in India. India has a large population and there will be talents who need to be attracted to the game. It is better for the game, if that happens," he concluded.