Barcelona v Internazionale
Icardi's quality enough to lead Inter past Barcelona - Zamorano
Ignasi Oliva Gispert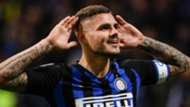 Former Inter Milan, Sevilla and Real Madrid striker Ivan Zamorano says Inter have the ability to beat Barcelona with Mauro Icardi leading the way.
Inter have collected maximum points through two matches, topping Tottenham and PSV Eindhoven to open Champions League play in a difficult Group B.
The Italian club topped Tottenham 2-1 at the San Siro to open the competition behind goals from Icardi and Matias Vencino before defeating PSV in the Netherlands by the same scoreline in their second match.
Icardi was joined by Radja Nainggolan on the scoresheet that day and, although the Belgian is set to miss time after suffering an injury against AC Milan, Zamorano is convinced Inter are ready for their toughest test yet when the club visits Barcelona on Wednesday.
"(Inter) was seen as third place in the group and there they are. Barcelona and Tottenham started as favourites but I do not think Inter are a dark horse," Zamorano told Goal.
"The club has much more history at an international level than Tottenham and it is what they will try to impose to return to winning big competitions.
"Mauro Icardi is a star in his own right and I think it is possible for Inter to think about getting a positive result from Camp Nou to keep alive the possibility of being group champions."
Zamorano, who featured for Inter from 1996-2001 fondly recalls another instance when an underdog Inter team topped Barcelona, citing the 2010 treble-winning team.
The two teams met in the group stage of the Champions League that year, with Barcelona earning a draw in Milan before Gerard Pique and Pedro fired the club to a 2-0 win in Spain.
However, when the two sides collided once again in the knockout stage it was Inter that emerged with a 3-2 aggregate win thanks to a dominant win at the San Siro.
"I enjoyed it a lot as a fan because I still have a great affection for the club," says Zamorano, who counted Barca as a rival during his six seasons in La Liga.
"I lived it with my children and we had a great time with that treble, and also seeing the elimination of Barcelona."
This time around the match will be much different, though, even if Inter will be fortunate enough to avoid facing Lionel Messi.
Icardi called it a "pity" that Messi was unavailable for the match after suffering a broken arm against Sevilla last time out while adding that he sees has side as strong enough to go toe-to-toe with Barca in his compatriot's absence.
Zamorano added that a Messi-less Barcelona is an "unknown" at this point while insisting that the club has to focus on the here and now, not on any results from the past.
"Inter have to go step by step and cannot think of going for the Champions League or living the memory of 2010," Zamorano said.
"You have to think about qualifying for the knockout stages and then, when the real competition begins, try to keep your head on straight, while being resolute and ambitious."