Transfers
Icardi ignoring Barcelona transfer talk in favour of Inter stay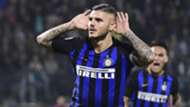 Mauro Icardi is "very happy at Inter" and continuing to ignore transfer talk suggesting that he has emerged as a potential target for Barcelona.
After proving to be a prolific presence in Serie A, the Argentine has been heavily linked with a move to unite him with fellow countryman Lionel Messi at Camp Nou.
The 25-year-old, who is set to be offered fresh terms to extend his stay at San Siro, is aware of the speculation surrounding him.
He is, however, paying little attention to it, with there no desire on his part to return to Catalunya any time soon having taken in a three-year spell at Barca's famed La Masia academy in his youth.
Quizzed on the transfer rumours ahead of a Champions League clash with the Liga giants on Wednesday, Icardi said: "I am very happy in Milan, very happy at Inter, my family is happy here and I have no need nor desire right now to leave.
"Playing for Barcelona's academy was a very important time for me and my career, as I learned a great deal here. I started my career here and facing them as a player in the Champions League is undoubtedly special and exciting.
"However, when I had the chance to come to Italy with Sampdoria, I didn't need to think twice. It was the right decision for me and my representatives."
Barca are not the only side reported to have cast admiring glances in Icardi's direction, with Real Madrid and Manchester United also considered to be among his many suitors.
"There are always offers, but I am happy at Milan and very calm," he added.
"I have the opportunity to play in the Champions League, I am captain and I want to get even stronger here. I feel like I'm asked to repeat this every day."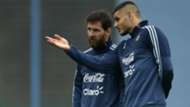 Inter will be looking to Icardi for inspiration when they tackle Barca in continental competition.
There will be plenty of attention focused on his efforts, with Messi set to be missing from a heavyweight encounter after suffering an untimely broken arm in his last domestic outing.
"We know Messi is the best player in the world and I personally felt it was sad he won't be against us, because it's always great to face the best," said Icardi.
"Having said that, I imagine my team-mates in defence are happy about it and we'll try to take advantage!"
Icardi, who topped the Serie A scoring charts last season with 29 efforts to his name, has found the target six times in nine appearances during the 2018-19 campaign – including a match-winning header during a derby date with Milan last time out.