Sydney v Melbourne Victory
I signed for Melbourne Victory because they are bigger than Sydney FC, admits Rhys Williams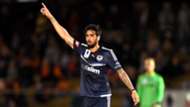 Melbourne Victory defender Rhys Williams has attempted to stoke the fire ahead of Saturday's semi-final, claiming he joined Kevin Muscat's side because they are a 'bigger club' than Sydney FC.
The Sky Blues and Victory square off at Allianz Stadium for a spot in the A-League grand final, with Sydney FC looking to claim back-to-back championships before the departure of coach Graham Arnold.
Williams was chased by both clubs after his departure from Perth Glory at the end of last season, but says the size of Victory is the reason why he chose them over Sydney FC.
"I met both managers in person and while both were great what swayed it for Victory was the size of the club, to be honest," Williams said.
"Just the way Victory work - the fan base, the stadium - it seemed like the full package.
"Sydney have been more successful on the field of late but I see Victory as the bigger club."
The Sky Blues have won the last seven matches against Victory, including a penalty shootout win in last year's A-League decider.
Williams acknowledged this statistic, but believes Victory have competed well recently against the Sky Blues and will get the job done if they are at the best.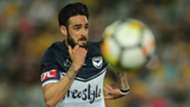 "They're up for the taking. The three games this season we've actually played some of our best stuff against them, we just haven't finished them off so hopefully a fourth time lucky," he said.
"Every time we've played them, it's not as if they've flogged us or played us off the park - in my opinion anyway.
"It's been about them taking their chances and we didn't on the day.
"The magnitude of the game is a big thing for us. We knew tonight they would come out as well and we woke up late on.
"(Saturday) we have to be at our best for 90-95 minutes to make sure we come out (on top)."
Victory's last win against Sydney FC came with a 1-0 result on Australia Day 2016, while the last time Sydney failed to win the contest was a 1-1 draw in February of the same year.