African All Stars
I must portray a good image in Europe - Fortuna Sittard's Oliseh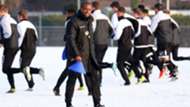 Fortuna Sittard's Sunday Oliseh feels he has the responsibility to retain a good image on and off the pitch so as to increase the influence of Africans in the coaching industry in Europe.
The former Juventus midfielder is one of the very few African managing European sides and sees it as an opportunity to help his counterparts make headway.
"It is an opportunity to maybe open ways for others," Oliseh told BBC Sport.
"So, the onus is on me to do well that is why I am really grateful that the results are flowing.
"With the limited resources that we have because as you can see our club here we'll do well.
"Just like the responsibility when I was the first Nigerian to play in the Italian league, you have to show some nice behaviours so that they could buy Nigerians, which happened."