Premier League
'I lost everything' - Michael Owen reveals he 'couldn't wait to retire' after injury nightmare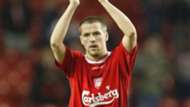 Former Liverpool and Real Madrid striker Michael Owen has revealed that he "couldn't wait to retire" during the final few years of his career due to his ever-mounting injury concerns.
The 38-year-old, who also won 89 caps for England during a 17-year professional career, won the Ballon d'Or whilst with the Reds in 2001.
Owen helped the club to a treble that included the FA Cup, the Football League Cup and the UEFA Cup in the same season.
However, a string of debilitating muscle injuries forced him into lengthy lay-offs during the second half of his career, during spells with Newcastle, Manchester United and Stoke City, and Owen admitted that following his first hamstring tear, he was never the same player.
"Once I did it once, I was gone really," the forward said on BT Sport following Liverpool's victory over Brighton to take them to the top of the Premier League.
"I went from someone who scored goals, beat players, was quick, ran in channels and crossed the balls. I changed my game.
'The last six or seven years of my career, I just turned into the only thing I could. I was petrified of running into a channel, I just knew I was going to tear a muscle.
"The worst thing about it all, your instinct says what you've always done. I was bred to be a footballer.
"The worst thing is, you then get into a rut whereby you don't even put yourself into a position where you are able to run. So you actually then go and stand in areas where you shouldn't even be.
"You have lost everything. All I did at the end of my career for six or seven years, I hated it. I couldn't wait to retire at the back end of my career because I wasn't me."
His former England and Newcastle strike partner Alan Shearer reacted less than kindly to the admission however, tweeting: "Not sure [Newcastle] fans, team-mates or employers will want to thank him."
Not sure @nufc fans, teammates or employers will want to thank him. 🤔 https://t.co/cMyqrTvhQp
— Alan Shearer (@alanshearer) August 26, 2018
Owen won the Premier League for the only time in his career with Manchester United in 2011 and retired in 2013 following a brief spell with Stoke that saw him make nine appearances.