I-League
I-League: Aizawl coach Santosh Kashyap blames Lalrosanga after dropping points against Indian Arrows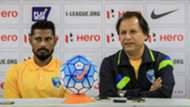 Aizawl FC continues to languish at the sixth spot on the 2017/18 I-League table after drawing 2-2 against Indian Arrows in Goa on Friday.
It was head coach Santosh Kashyap's first game in charge after he took over the reins from Portuguese coach Paulo Meneses. The Mumbai-based coach was not happy with his team's performance as they could not hold on to the lead even after going ahead twice in 90 minutes.
"I think we could have killed the game in the first half itself as we had many chances. It was my first match (with Aizawl). A lot of things need to be rectified but I think fatigue was the main concern. That's where we have to change our strategy and that's why we were happy to defend and look for counterattacks. We will definitely improve match-by-match and try to do better in the next matches. I'm satisfied but not happy (with the point). We took the lead twice and then conceded. So we need to work on it and try to do our best in our next four games," rued Kashyap.
The 51-year old coach informed that both Kareem Nurain and Yugo Kobayashi are out for the season and will only be available for the Super Cup. 
He dismissed any concerns of being appointed as head coach in the middle of the season and instead highlighted the various occasions where he took up responsibility.
"It (being brought as a coach late in the season) has happened with me many times before, with Air India, ONGC and Salgaocar. Football is all about handling pressure. Otherwise, become a youth development coach. I have to do many things in one session itself. It's like merging four sessions in one. The (Aizawl) players adapted and implemented very well," stated Kashyap. 
But the former Mumbai FC coach openly blamed C Lalrosanga for his tackle on Rahul KP which earned Indian Arrows a penalty at the end of regulation time.
"The young side (Indian Arrows) are very fit and positive. They have fought well not just against us but against all other teams as well. But we may have given away the game due to that kind of tackling (by C. Lalrosanga). I told him to take time but he made a silly tackle which cost us the victory," blamed Kashyap.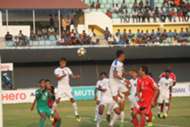 Indian Arrows head coach Luis Norton de Matos was happy with the performance of his boys and complimented them for showing a tough mentality to stage a come-back even after going down twice.
"I told my players to concentrate because if they score first, it's very difficult for us. If we score first, we have more spaces to play. Until the goal, the only team who wanted to score was Indian Arrows. Aizawl were trying long balls in the space - okay, they have players for that. Aizawl also wanted to win the game and we lost a little bit of concentration.
"We had to run against the result and the boys proved that they have a fantastic mentality. With the substitutions also, the players were going all out. When you play like that, you take risks and they could have scored the third goal but (Prabhsukhan) Gill made that fantastic save (to deny Leonce Dodoz). We deserved the result. It was going to be a big punishment for us if we lost all three points. Now when Indians Arrows play against any team, we are not afraid. At the end, one point against the champions is not bad," said Matos after drawing against the title-holders.
The former Benfica B coach was optimistic for the upcoming Super Cup but also sounded realistic on the chances of his team beating the superior teams of Indian Super League (ISL).
"In all countries, when there are competitions like that, it's between all the teams - one or two games until the elimination and then the final. Now I hear of four or six teams from the I-League and ISL. For us, I would like to put our team with the super players of the ISL. The players are very tired after working hard from the World Cup. If it's immediately after a week, it's okay. If it's after three weeks, it's okay, but I cannot put in my main targets to play in the Super Cup and beat the teams of the ISL," said Matos.
The Portuguese also informed that Abhijit Sarkar and Ninthoinganba Meetei got injured during a recovery session whereas Aniket Jadhav will miss two games due to examinations.