I-League 2nd Division
2nd Division I-League: TRAU wants to be a platform for Manipur, says club secretary T Phulen Metei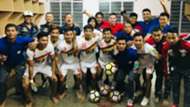 Tiddim Road Athletic Union (TRAU) FC from Manipur are currently enjoying a good run in the 2nd Division I-League this time around. However, they recently lost their top spot in Group C after a defeat to Bengaluru FC reserves.
On Saturday that the Blues'  B team led by Naushad Moosa foiled the Manipuri side's unbeaten run of five matches to extend their own unbeaten run to five games.
"The competition in the Second division I-League is very tough with teams like Bengaluru where they have all good players who are even capable of making it to their senior team," said TRAU general secretary T Phulen Meitei in an exclusive chat with Goal.
"We expect tougher competition in Group C after Chennaiyin (reserves) also defeated Langsning. Nobody is a favourite as of yet," he added.
Interestingly, as many as six Manipuri players were named in Bengaluru Reserves' matchday squad against TRAU, with three of them starting against the hosts.
Robinson Singh Khumukcham starred with two assists while Ajay Chhetri and Lamgoulen Gou Hangshing were named in the first XI. Bidyananda Ningthoujam, Naorem Roshan and Shahabaaz Khan were on the bench.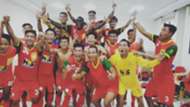 MORE MANIPURI PLAYERS
Meitei was rather proud of the number of local boys involved in the match and suggested that it is inevitable for talented Manipuri players to move to greener pastures in order to live up to their potential.
"Manipur has a large pool of talent, but there is also a huge gap in the salary that we are able to pay our players as compared to the bigger clubs. We don't want (need) to disclose how much salary we pay our players because our boys don't play for salary - they want a platform for themselves and that's what we are providing them.
"They play with their heart and soul and an immense spirit. Football investment does not generate much of a return for us but it is our philanthropy that has brought forward more (Manipuri) clubs for the benefit of the players' future."
Meitei mentioned that for every players' future there is a need for a stepping stone with adequate exposure so that they may be noticed and scouted by the right teams.
"Some agents have marked some of our players. In fact, we also don't want to hang on to certain players because it is the player's career and we want our players to fight on a bigger stage. We have been releasing players to ISL (Indian Super League) sides Kerala Blasters, Chennaiyin FC and Delhi Dynamos," he revealed.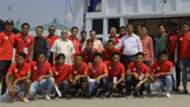 "Mohun Bagan and East Bengal can pay higher salaries but our players face language issues and also suffer from a little bit of an inferiority complex when they go outside to play. So we have to train them in those aspects as well," he reflected.
TRAU are looking to emulate NEROCA FC by qualifying for the I-League. 
"We are aiming to qualify for the I-League and we will go all out to give our best to realise our dream," Meitei asserted. "We are the most successful club in the history of Manipuri football. We have more trophies than any other team in Manipur.
"We won the CC Meet tournament six times, we were the first winners of the Manipur State League (2006, before winning it again in 2010), won the Sikkim Gold Cup (in 1992) and lost the Bordoloi [Trophy] final (in 1998). We had lost (the Bordoloi Trophy final) against a team from Uzbekistan (Narbakhar Club) whose players faced the Indian national team that time," Meitei stated.
TRAU FC possesses experienced players like former Salgaocar FC and then I-League champions Churchill Brothers' midfielder Tomba Singh, who also plied his trade with Kolkata giants Mohun Bagan and East Bengal. They have Reisangmei Vashum, who represented East Bengal after a title-winning stint with Churchill Brothers.
"Our local boys are very competitive. [Among] foreigners we have a Nigerian striker (Princewell Olariche Emeka) and a French defender (Jonette Christophe Phillipe) but we want to sign two more players before our important match on the 26th - maybe get a player under Asian quota or get two good Indian players," he said. 
The club have their next test in the 2nd Division I-League against Group C rivals Jamshedpur FC 'B' team on Thursday, April 26.
Photos: facebook.com/traufootball