I-League
I-League 2018-19: From the family of Kerala's superheroes to Gokulam comes Rajesh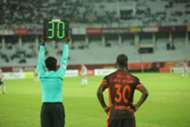 After the recent floods that hit Kerala, the state's fishermen are regarded as superheroes by Keralites. Gokulam Kerala's new signing Rajesh hails from Pozhiyoor, a fishing hamlet at the southernmost tip of God's own country. They were heroes even before the floods as the community stood strong to deal with the Ockhi cyclone that ravaged the region several years ago. Rajesh's family was severely affected but giving up was never an option. 
The Malabarian striker would have ventured out into the sea, taking up the job of a fisherman just like his father and three brothers. But the gods of the ocean had other ideas for the young kid who dreamt of becoming a footballer. 
He realized his dream by fighting his way through the hardships and his brothers were aware of the talent in him. They did not want Rajesh out in the sea, they'd rather see him fighting it out on green grass.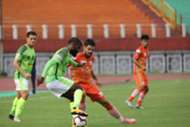 "There was a time when my family couldn't afford to get me football boots. They did not know about football. There were only two options initially, either study or be a fisherman. My brothers bought me boots with the money they earned through fishing," Rajesh narrated his story to Goal. 
The 25-year-old striker kick-started his career at the St. Mathews Recreation Club (SMRC) under the tutelage of coach Cleofas Alex. He played for the SMRC team and United Kerala (UKFC) team in the Thiruvananthapuram Super Division and later went for selections trials at a Bangalore second division club after his higher secondary education.
He was one of the five players to get selected and his performances there helped him get into the Santosh Trophy team of Karnataka in 2012. His goals for Karnataka earned a ticket into I-League as first Chennai City and then Gokulam Kerala came swooping in with offers.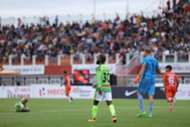 But Rajesh didn't have to think twice make a choice. "I chose Gokulam because I wanted to play at home. 
"I wanted that feeling of scoring in front of home crowd. I scored a lot of goals in Santosh Trophy but scoring for home fans is something special. 
"It has been a great feeling and the encouragement has been good. I wanted to play professional football and take the next step. Thanks to god, I could join Gokulam Kerala. 
"Whenever I score a goal, I get a lot of wishes and support. That is my motivation to score more goals. When we enter the ground, there is always an aim. I wanted to play I-League. I want to play ISL. Then playing for the national team is a dream. It is a step-by-step process. I want to be known as a goalscorer. Goals are my target. I become more happy being known as a goalscorer.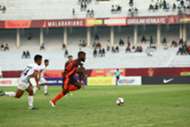 "I am a striker. In Indian leagues be it ISL or I-League, foreigners play upfront. I did not know how to play on the wings. But I was confident enough to play in any position. I was satisfied after playing as a winger against Lajong."
Rajesh's pre-match dressing room routine is only a phone call to the person whose prayers have the strongest impact, his mother. 
The prayers worked wonders as Rajesh came off the bench to make his debut against Mohun Bagan and earned plaudits for his cameo. Not even for a second did the Pozhiyoor-born lad look like he was playing in a professional top-tier league for the first time in his life.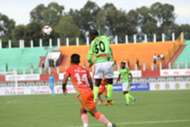 "I was confident based on my training. It was my league debut. I was nervous but earned confidence from the training. 
"I am playing under Bino George for the first time. He communicates with us very well and motivates us individually. Not all coaches do that. I didn't have an issue being a substitute, just wished to do well when I came on."
At Gokulam, Rajesh hopes to learn a lot and gain experience. He hasn't stopped dreaming because that has kept him yearning for more. Here's a fisherman-turned-footballer who is aiming to get into the national team. There is no success without struggle but Rajesh Soosainayagam knows it because he is been dealing with it right since he was eight years old, when he first started playing football. 
Follow Nisanth V Easwar on  Twitter - @niktheblue94