I-League
I-League 2017: I-League 2017: Misfiring Bagan must find attacking solutions to re-ignite title ambitions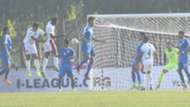 It was early Christmas for the Green and Maroon fans when Eze Kingsley's header from a Yuta Kinowaki corner bulged the net against arch-rivals East Bengal on December 3, at the Salt Lake Stadium in Kolkata. In the post-match press conference head coach Sanjoy Sen engaged in a bit of chest thumping, saying that his side could have won by five to six goals 'if' the strikers had converted the missed opportunities. Since then, Mohun Bagan's league campaign has been a story of only ifs and buts. In the process, they have lost six crucial points at home against less-fancied teams. 
The feared trident of Sony Norde, Dipanda Dicka and Ansumana Kromah seems to have misplaced their scoring boots and it is startling to see that after pumping five past Churchill Brothers, Mohun Bagan have only scored only twice in three matches. Even those two goals have come from the penalty spot, highlighting their bluntness in attack.
The players and the manager must share equal responsibility for the dismal performances. Sen might point fingers to injuries which have hampered his side's progress but how can one possibly defend Dicka and Kromah's wastefulness inside the box? Against NEROCA, Kromah missed two glorious chances which could have seen his side pick up three points at home. 
In the same match, it was surprising to find that Bagan's number 5 (Kromah) had run out of gas well within an hour. This was evident when he only had goalkeeper Lalit Thapa to beat but he lost the ball to Saran Singh who ran back half the pitch to make a match-saving tackle. It is criminal for a seasoned striker to miss those kinds of chances. However, one must note that the player hadn't recovered fully from a groin injury, which puts the finger of blame towards Sen.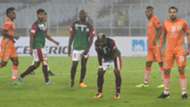 Dipanda Dicka, roped in by Mohun Bagan after a string of sub-par performances by Kamo Bayi in the local league, has also failed to light up. The Bagan number 9 was the top-scorer with Shillong Lajong in the previous edition of I-League. But the Cameroonian has been a shadow of himself and has performed no better than Bayi so far. 
Kromah and DIcka's story of missed chances continued even against Indian Arrows and the Blue cubs managed to hold Bagan in the maiden top tier match at their own backyard. Kromah failed to convert a superb cross from Abhishek Das while Dicka failed to test Dheeraj Singh properly when he was sent through with a chipped pass. 
The club's new recruit Manandeep Singh was equally wasteful. The Hisar-born striker got a chance in the 75th minute to put his side in front but he could only blaze it over. Sen's attacking options have often failed to utilise open spaces behind the defence and even when they get into a scoring position, their efforts have either failed to test the goalkeeper. 
The century-old club also suffer from a lack of creativity in midfield. Raynier Fernandes or SK Faiaz at the centre of the park is not the answer to Katsumi Yusa, who can create opportunities with individual brilliance. Sony Norde's niggling knee injury has added to the problem. He has shown sparks of imagination on the left flank but is yet to reach his peak. When Cameron Watson pairs up with Kinowaki in midfield, it will definitely add strength and compactness to the side but both the players are known for their ball snatching abilities rather than for being innovative and producing a steady supply for the men up front. 
Sanjoy Sen must also bear his share of criticism, as the I-League winning coach has chosen to draw strategies which are easily discernible and ineffective with the formation that Bagan has adopted. While Kromah is operating as a withdrawn striker whose primary job is to link the midfield and attack, Bagan has completely bypassed the play down the middle and have instead opted for long balls targeting Dicka. But the Cameroonian is far from being a serious threat in the air and has not really held the ball up well. 
It is also notable that Sen has failed to chalk out an alternative strategy to take the opposition by surprise. It is beyond one's understanding why Bagan started to press high so late against NEROCA when they were playing at home and were desperately searching for a winner.
Mohun Bagan currently sit fourth on the table and with East Bengal dropping points against NEROCA on Saturday, all is not lost for them. With two-thirds of the matches and a derby still to go, the Green and Maroons can easily turn the tables. But for that to happen Sen must go back to the drawing board and his strikers must regain their scoring touch.